Documenting the electric field of light has been impeded by the high speeds at which light waves oscillate. Available tools for measuring light fields resolve only an average signal associated with a light pulse and not the peaks and valleys within that pulse. Such measurements can now be recorded with an optical oscilloscope engineered at the University of Central Florida.
The system was demonstrated to provide real-time measurement of the electric fields of individual laser pulses in the laboratory. The researchers successfully performed single-shot measurements of laser electric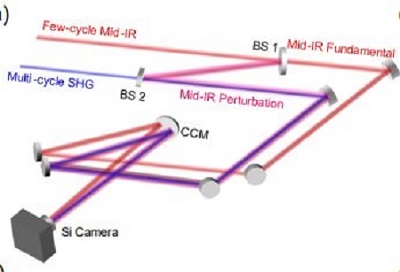 Schematic of the experimental setup with beam splitter (BS), mid-infrared (Mid-IR) and concave cylindrical mirror (CCM) components. Source: Michael Chini et al./University of Central Florida field waveforms, confirming that strong-field nonlinear excitation of photocurrents in a silicon-based image sensor chip can provide the sub-cycle optical gate necessary to characterize carrier-envelope phase-stable optical waveforms in the mid-infrared. By mapping the temporal delay between an intense excitation and weak perturbing pulse onto a transverse spatial coordinate of the image sensor, the technique was observed to allow single-shot measurement of few-cycle waveforms.
The ability to measure optical waveforms may be key to realizing higher speeds in electronics and telecommunications.
According to associate professor Michael Chini, "Fiber optic communications have taken advantage of light to make things faster, but we are still functionally limited by the speed of the oscilloscope. Our optical oscilloscope may be able to increase that speed by a factor of about 10,000."