A new chip-based technology that generates sound profiles with high resolution and intensity could create new options for ultrasound therapy. The technique developed by researchers from Max Planck Institute and the University of Stuttgart, Germany, involves passing ultrasonic waves through water, where hydrogen bubbles help to transform the waves into desired shapes.
High-power ultrasound therapy is currently used to destroy tumor tissues, but it can also damage healthy tissue due to heat generation. The ultrasound field must be tightly controlled to confine its influence on the tumor site, a task rendered particularly difficult for brain tumors as the skull distorts the field. The new method allows the 3D shape of even very intense ultrasound waves to be varied with high resolution and with less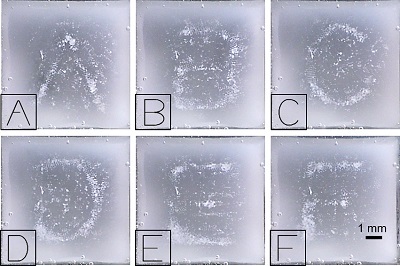 Particles patterned by the spatial ultrasound modulator acoustic field in the form of the letters "A" to "G". The scale bar is 1 mm. Source: Zhichao Ma et al.technical effort than now required to modulate ultrasound profiles.
Current methods to control ultrasound fields involve creating several individual sound sources, which are then shifted to strengthen or weaken each other. This technique is limited and can only produce about 1,000 pixels. The solution devised by the researchers uses a thumbnail-sized complementary metal-oxide-semiconductor chip on which a thin water film is electrolyzed on 10,000 electrodes to form hydrogen bubbles in specific patterns. The electrodes each have an edge length of less than a tenth of a millimeter and can be controlled individually. An ultrasonic wave transmitted through the chip encounters the bubbles, which are transformed into a desired shape, each with a distinct sound pressure profile. Creating a different sound profile is as simple as wiping the hydrogen bubbles away and producing a different pattern.
The precision of the ultrasound projector method was demonstrated by "writing" the alphabet in a series of sound pressure profiles. To make the letters visible, they caught micro-particles that were suspended in the pressure profiles.
The dynamic spatial ultrasound modulator technique described in Nature Communications might be applied for diagnostic and therapeutic purposes, as well as in biomedical laboratories to arrange cells into organoid models.