The LEAP (Leadership in Engineering Achievement Program) Awards, a design engineering competition started in 2018 by B2B publisher WTWH Media, has recently announced its 2020 winners.
The awards celebrate innovative products serving the design engineering space, and honor designs over 12 categories. In the Test & Measurement category, this year's Silver award went to the R&S RTP high-performance oscilloscope from Rohde & Schwarz.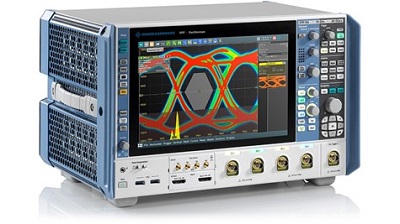 The R&S RTP oscilloscope. Source: Rohde & SchwartzThe company bills its high-performance oscilloscope family as the most compact high-performance oscilloscope on the market. Last year it added two new models, 13 GHz and 16 GHz respectively, expanding bandwidth range from the 4 GHz minimum to full 16 GHz. Additional new features include debugging functions such as a high-speed serial pattern trigger and a DDR4 signal integrity and compliance test; and signal path characterization and debugging via time domain reflection (TDR) and time domain transmission (TDT) analyses.
With its customized front-end application-specific integrated circuits (ASICs) and real-time processing hardware, the oscilloscope enables highly accurate measurements at high speeds in a compact form factor. Even when signal correction is activated, high speeds can be maintained by the device's ability to compensate for transmission loss from signal to scope in real time.
Key features include:
Signal fault detection with 750,000 waveforms/s
High-precision digital trigger without bandwidth limitations
Realtime de-embedding for triggering and fast acquisition
Compact design and silent operation for best fit to any lab
Precise measurements due to flat frequency response of +/- 0.25 dB
The device addresses electronics developers in many industries and market sectors, particularly in the fields of automotive, aerospace and defense, industrial and telecommunications. The company states that it is ideal for debugging embedded electronic designs including high-speed buses (such as USB, PCI Express, MIPI or DDR memory interfaces); multichannel RF interfaces (radio or radar); complex power management units; and even simple control and programming buses (such as I2C and SPI).
Compared to its competitors, according to Rohde & Schwarz, the R&S RTP offers a footprint up to 40% smaller and the quietest operation available, due to its sophisticated cooling concept and silent fans.
Information on winners of the 2020 LEAP Awards, visit WTWH Media publication Design World.