Generally, 5G is thought to mean nothing more than "faster internet access on a new 5G handset with very limited coverage." At least at the current stage, 5G makes it possible to download a 60 minute long high definition video in just seconds, however, nobody can finish watching that video in seconds, which makes the speed meaningless in many cases. Instead, 5G New Radio (NR) includes many new features not mentioned in advertisements that will definitely change lives in the near future.
The most prominent features of 5G include enhanced mobile broadband (eMBB), ultra reliability and low latency communications (uRLLC) and massive machine type communications (mMTC). These are very different features delivered through different spectrums of 5G, but they will not offer solutions to address all use cases and emerging possibilities. For example, autonomous vehicles on 5G require uRLLC for a life-critical responsiveness, while cloud-based immersive virtual reality (VR) gaming also requires uRLLC. To make sure these use cases will not be competing for limited resources (yes, 5G never means to provide unlimited network resources), network slicing on 5G networks will help to manage and minimize the mess.
5G network virtualization defines network slicing
In previous generations of mobile networks (2G, 3G and 4G LTE) there was a single physical network infrastructure for everything. However, that physical network infrastructure cannot be optimized to acquire different needs from different services. Even in the case of a mobile virtual network operator (MVNO), "virtualized" networks are actually still physical resources, leased from the owner of the telecommunication infrastructure. In 5G NR, however, it is not the same kind of physical slicing of networks, but instead it provides an end-to-end virtualized connection. Thanks to the advancement of virtual network technologies from IT virtualization in the last decade, the service-oriented concept on 5G NR is coming true.
By leveraging the concepts of software-defined networking (SDN) and network function virtualization (NFV), it is possible to create virtual networks that share the same physical network and theycan be easily adjusted because they are simply defined by software. There can be a slice for the mobile broadband that consumers can enjoy with their high definition video streaming. There is another slice for massive IoT connectivity that does not need a high bandwidth but relies on a stable and reliable connection with millions of connected devices. There will be a slice for autonomous vehicles to communicate with "anything" in real time, dubbed cellular vehicle-to-everything (C-V2X). Everything that relies on 5G — E-sports, smart healthcare, industrial automation, machine remote control — can have its own individual network slice, so that network resources can be well allocated and optimized, resulting in less network congestion, better speed and, more importantly, higher security.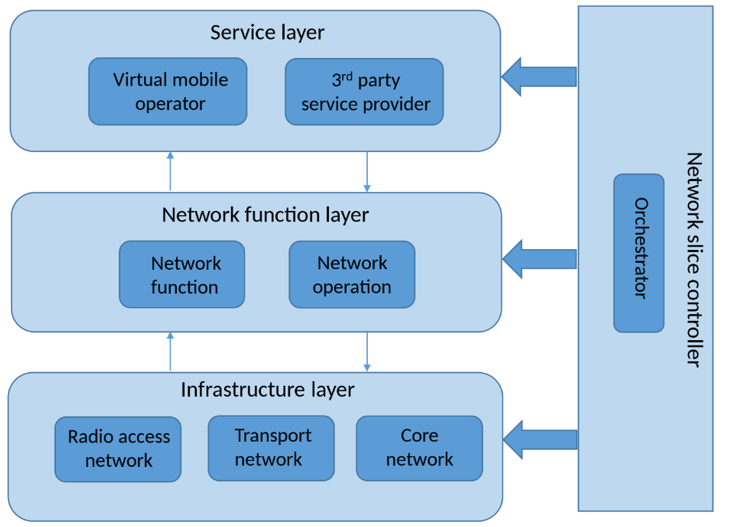 Generic 5G network slicing framework.
Architecture of 5G NR network slicing
To make this highly programmable and extremely flexible architecture happen requires an end-to-end readiness of network slicing that can cover all existing network segments. From the architecture perspective, there are generally three layers in the multi-tier architecture, from bottom to top, including the infrastructure layer, the network function layer and the service layer. Each of these layers is responsible for the definition of the network slice.
The infrastructure layer hosts the physical network resources and defines the physical network topology so that the network functions of each slice will be provided by the physical network resources of this layer. The network function layer, on the other hand, will define the actual network slice, based on the service definitions coming from the service layer. It combines the network functions on the virtualized network resources and follows the pre-defined network policies to create the network slice service, ready for the service layer to consume. On the service layer, service instances will be composed based on the business requirements from the interfacing entity, for example, a video streaming service provider, an application service provider or an MVNO.
To enforce end-to-end service management, a network slice controller will act as the conductor, controlling the activities in each of the layers and making sure each is aligned to fulfill the service requirements. Virtual network resources, including the life cycle of the whole network slice, will also be managed by this conductor.
Evolution of network slicing
The progression of network slicing in 5G will take years to complete because of the cost and the overall evolution of the ecosystem. The ultimate goal is to achieve a highly dynamic and flexible allocation of network resources to each service.
At the beginning of network slicing adoption, there will be just a few static slices with multiple tenants inside each of them. Policies and behaviors inside each slice will be pre-defined by the provider, so that capacity can be well-controlled but without concerns for any advanced network functions like low latency.
The next stage will be a one-to-one mapping between service and network slice that will provide a much larger number of slices. The highly virtualized slice will be partially allocated through the telecom API from the provider, making the provision more dynamic and on-demand.
The final version of network slicing will make the complete API driven slice provisioning possible, which is application and context aware and the slice life cycle can be ephemeral. It also makes the network highly service-oriented so that it is possible to retrieve the network resources needed from different operators for the best optimization of the service. There might also be a resources marketplace of API packages to address different services.
Conclusion
Network slicing in 5G NR is aimed at allocating the right amount of resources needed for the efficiency and effectiveness of utilization. Certainly, network operators and infrastructure owners must invest for the high degree of network virtualization and develop API for invocation of a service-oriented slice. Other parties in the ecosystem, for example, the automotive manufacturers, video streaming industry, cloud service providers and mobile app developers should all start to study it and work with network operators to shape the development of network slicing for the best results for everyone.