Protection of industrial automation and control systems against malicious cyberattacks is crucial, as these critical infrastructures are often run on outdated operating systems that hackers can access. Every digital device is a potential vulnerability point and it is no longer a matter of whether a system will be attacked, but when.
Join the International Society of Automation (ISA) for a virtual conference focusing on expert discussions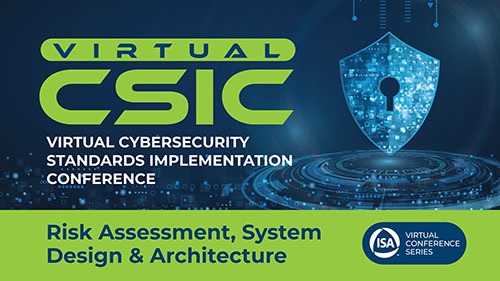 surrounding awareness and solutions for organizational threats/vulnerabilities based on the ISA/IEC 62443 series of standards. Endorsed by the U.N. and globally recognized, ISA/IEC 62443 is the world's only consensus-based series of industrial cybersecurity standards. This conference will clarify how the implementation of these standards can deliver a robust automation cybersecurity system so that a quickly and efficient respond to threats can be implemented while minimizing harm.
The ISA Virtual Cybersecurity Standards Implementation Conference is scheduled for July 16, 2020. Topics covered will include an overview of ISA/IEC 62443 series of standards for product suppliers, secure and safe operations in the remote work era of COVID-19 and beyond, and cybersecurity design principles to meet compliance.