The number of electronics in vehicles continues to climb with more features being added to cars such as infotainment, flat panel displays, Blu-ray players, wireless connectivity and much more.
The Velar infotainment master controller is designed for Jaguar Land Rover vehicles and includes several electronic components to enable current and future infotainment options in vehicles. The device includes several components from Intel, Microchip, TE Connectivity, Maxim, Broadcom, Rohm and more.
The following teardown includes a partial look at what is inside the Velar infotainment master controller from IHS Markit.
Summary points
Estimated to be built by Bosch
Intel's embedded compute MXM module with E3845 CPU and 4GB DDR
60 GB industrial grade SSD
Mitsumi SDARS can module
Intel BT / WLAN 2x2 mini PCI Express module
Target market: Automotive
Released: 2017
Pricing: n/a
Availability: Jaguar Land Rover vehicles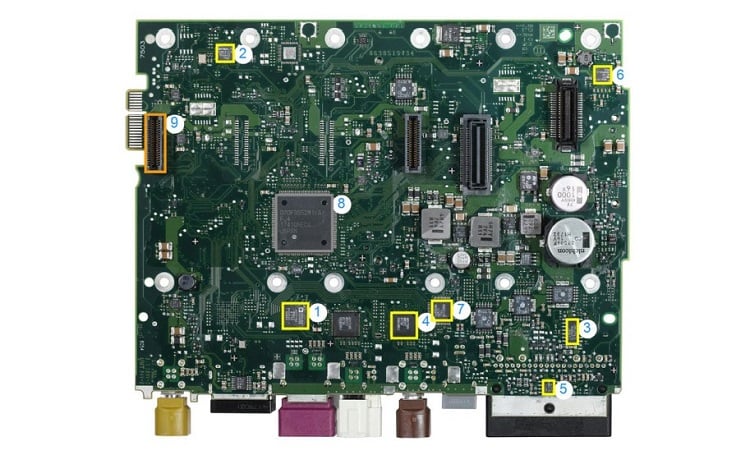 The main PCB inside the Velar infotainment controller. Source: IHS Markit
Main PCB
1. Intel Corp., 5M570ZT100A5N, CPLD, Max V, 570, logic elements, 74 I/Os, 0.18 um, automotive
2. Intel Corp., 5M1270ZF256A5N, CPLD, Max V, 1270, logic elements, 211 I/Os, 0.18 um automotive
3. Microchip Technology Inc., LAN89530AM, USB to Ethernet controller, USB 2.0, 10/100Base-TX/FX, automotive
4. Maxim Integrated Products Inc., MAX16942EGee/V+, USB 2.0 protector, data/power switch, 650 mA, automotive
5. TE Connectivity Ltd, 7-338069-6, micro-match, female, vertical
6. Yamaichi Electronics Co. Ltd, BECHS-0.5-230-S9, MXM card edge, right angle, gold plated contacts, automotive
7. Yamaichi Electronics Co Ltd, BECOW-1.5-10-S9, power card edge, right angle, gold plated contacts, automotive
8. Automotive HSD, dual, male, right angle, gold plated contacts
9. Japan Aviation Electronics Industry Ltd, MX62010HQ1R100, pin header, vehicle I/O, shrouded, right angle w/ metal shielding, automotive
10. Automotive HSD, dual, make right angle, gold plated contacts
11. Automotive HSD, make, right angle, gold plated contacts with two-pin header
12. Japan Aviation Electronics Industry Ltd., MX49004NQ1, pin header, vehicle I/O, shrouded, right angle with metal shielding, automotive
13. Pin header, vehicle I/O, 20 contact pins + 4 contact blades, dual row, right angle, shrouded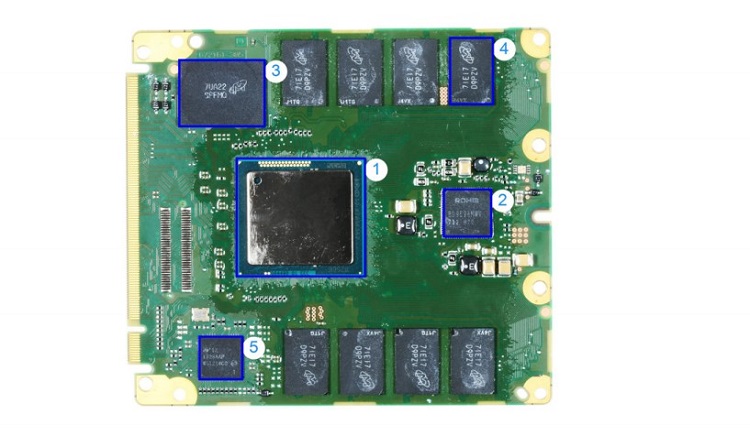 The embedded compute module inside the Velar infotainment controller. Source: IHS Markit
Embedded compute module
1. Intel Corp., FH8065301487719, CPU, Intel Atom processor E3845, quad core, 1.91 GHz 2 MB L2 cache, 22 nm w/ integrated Intel HD graphics, automotive
2. Rohm Co. Ltd, BD9596MWV, power management IC, automotive
3. Micron Technology Inc., MTFC16GAKAEDQ-AIT, flash, eMMC NAND, 16 GB, MLC, automotive
4. Micron Technology Inc., MT41K256M16-HA-125 AIT:E, SDRAM, DDR3L-1600, 4 Gb, automotive
5. Intel Corp., WGI210CS, Ethernet controller, single port, 1 GbE SerDes/SGMII, PCIe v2.1, 40 nm, automotive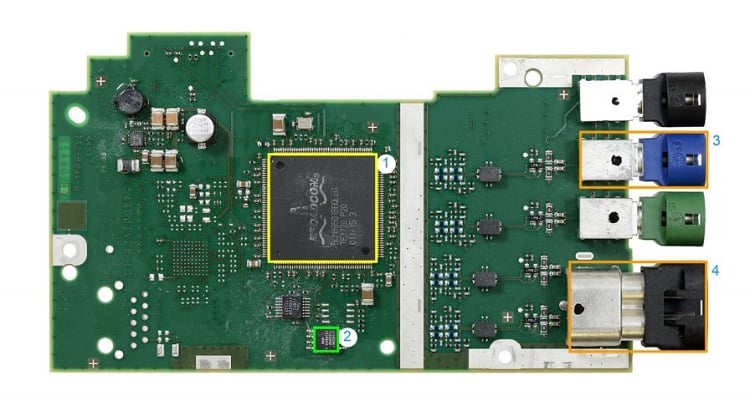 The Ethernet switch part of the Velar infotainment controller. Source: IHS Markit
Ethernet switch PCB
1. Broadcom Ltd., BCM89501BBQLEG, Ethernet switch, 7-port, IEEE 1588/IEEE 802.1AS, 5 integrated PHYs and 2 uplink ports, 65 nm, automotive
2. Cypress Semiconductor Corp., S25FL032P0XMFA01, flash, NOR, 32 Mb, 104 MHz, SPI, automotive
3. Automotive, HSD, male, right angle, gold plated contacts
4. Automotive HSD, male, right angle, gold plated contacts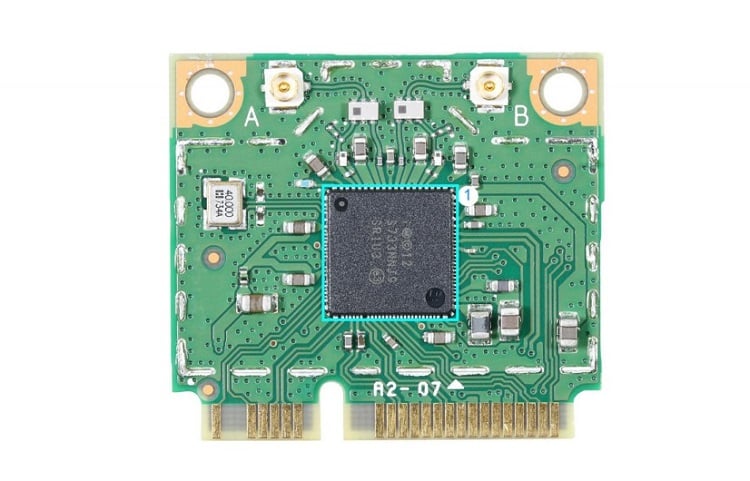 The BT/WLAN module inside the Velar infotainment controller. Source: IHS Markit
BT/WLAN module
1. Intel Corp., DM82556CDE, BT/WLAN, IEEE802.11ac, dual-band, 2x2, MIMO, Bluetooth 4.0
Major components:
$142.00 - Embedded computing module, contains Intel Atom E3845 processor, 4 GB DDR3L-1600 SDRAM, automotive - MFR: Intel Corp. (Qty: 1)
$60.00 - SSD, 60 GB, 2.5", SATA 6 Gb/s, MLC - MFR: Toshiba Corp. (Qty: 1)
$25.90 - SDARS module - MFR: Mitsumi Electric Co Ltd (Qty: 1)
$17.62 - FPGA, Cyclone IV, 15408 logic elements, 504 Kb embedded memory, 4 PLLs, 165 user I/Os, 28 nm, automotive - MFR: Intel Corp (Qty: 1)
$17.62 - FPGA, Cyclone IV, 15408 logic elements, 504 Kb embedded memory, 4 PLLs, 165 user I/Os, 28 nm, automotive - MFR: Intel Corp. (Qty: 1)
$9.23 - 10-layer, FR4, lead-free - MFR: Unimicron Technology Corp - MPN: - (Qty: 1)
$9.08 - Ethernet switch, 7-port, IEEE 1588 / IEEE 802.1AS, 5 integrated PHYs & 2 uplink ports, 65 nm, automotive - MFR: Broadcom Ltd (Qty: 1)
$7.10 - BT/WLAN module, IEEE802.11ac, dual-band, 2x2 MIMO, Bluetooth 4.0 - MFR: Intel Corp. (Qty: 1)
$5.29 - Automotive pixel link transmitter, APIX2, 3 Gbps downstream, 187.5 Mbps upstream, HDMI receiver & HDCP1.4, automotive, 180 nm - MFR: Analog Devices Inc (Qty: 2)
$5.08 - MCU, 32-bit V850E2M core, 80 MHz, 64 KB RAM, 768 KB flash, 24-channel 12-bit ADC, 112 I/Os, 90 nm, automotive - MFR: Renesas Electronics Corp (Qty: 1)