Researchers from the University of Michigan created an autonomous HVAC system that can adjust a room's temperature in a sustainable way, based on the needs of the people in the room. Heating and cooling is the largest consumer of energy in American homes and commercial buildings. The new HVAC system would provide efficient and personalized comfort without the need for manual, wall-mounted thermostats.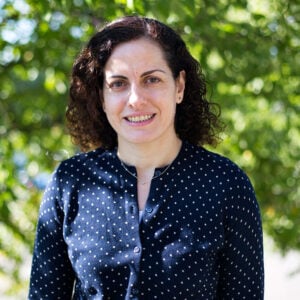 Carol Menassa, one of the researchers behind this study. Source: University of Michigan
The new system is called Human Embodied Autonomous Thermostat (HEAT). HEAT consists of thermal cameras and 3D video cameras that measure if people in a room are hot or cold based on their facial temperature. Once that data is gathered, the system feeds temperature data to a predictive model which compares the data with information about the occupant's thermal preferences. Then it determines the temperature that will keep most of the occupants comfortable while using the minimum energy expenditure. HEAT maximizes comfort while using less energy than traditional systems and not requiring room occupants to wear detection devices.
Facial temperature is a good predictor of comfort. If someone is too hot, the blood vessels expand to radiate additional heat and raise facial temperature. If they are too cold, the blood vessels will constrict and cool the face.
When newly installed in a room, occupants need to teach the system about their preferences by rating temperatures on a three-point scale using their smartphones. They rate a temperature too hot, too cold or comfortable. After a few days, HEAT learns their preferences and can operate on its own.
To test HEAT, researchers worked with Southern Power and tested HEAT in their Alabama offices. The team set up test cameras on tripods in the corners of rooms. In a permanent installation, the cameras would be placed in more inconspicuous locations. The cameras collected temperature data without identifying individuals. The footage was deleted after processing, which takes only a few seconds. During testing, the system effectively maintained the comfort of 10 occupants in a lab setting. The team plans on conducting a second test with Southern Power in new Alabama smart homes. They estimate that a residential HEAT system could be on the market within five years.
A paper on the HEAT system was published in Building and Environment.