The ability to control HVAC energy consumption and indoor air quality merges in a new carbon dioxide sensor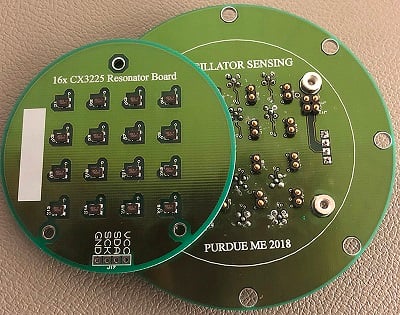 Researchers developed a sensor to help reduce energy consumption through heating and ventilation systems. Source: Purdue Universitydesigned at Purdue University. The low-cost device detects the CO2 released into the air by a room's occupants so that space conditioning systems can control the indoor climate and air turnover accordingly.
"Climate control and proper ventilation are especially important because most people spend considerably more time indoors than outside," said Jeff Rhoads, a professor of mechanical engineering in Purdue's College of Engineering. "Climate control and ventilation are also huge sources of energy consumption in the United States and around the world."
The combination of resonant and resistive sensing is intended to conserve energy in large buildings by controlling heating and ventilation in occupied rooms instead of wasting energy to space condition empty areas. The automated detection approach eliminates the need for motion detectors or cameras and attendant privacy concerns.
The researchers are now working to integrate the sensor with other internet of things building technologies and is seeking partners to collaborate on continued developments.