Researchers from the Arc Center of Excellence in Excitation Science created a new kind of flexible and recyclable electrode that could create cheaper solar cells, touch screens, wearable e-skins and the next generation of smart windows.
The material is called dielectric/metal/dielectric (D/M/D) nanomesh electrodes. The electrodes have precisely controlled perforation size, wire width and uniform hole distribution. It yields high transmittance and low sheet resistance with quality flexural endurance and transmission of above 90 percent with high electrical conductivity.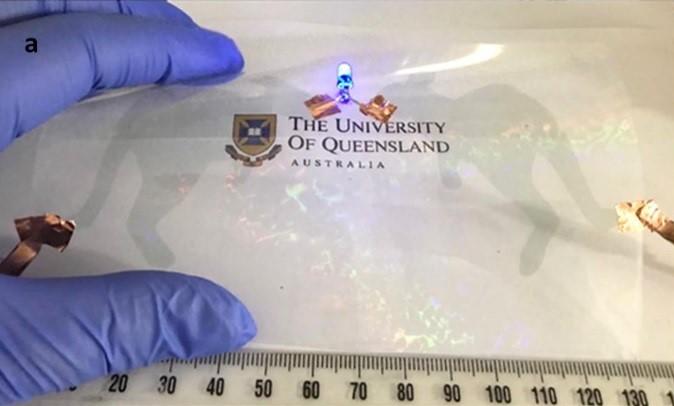 TiO2/Au/TiO2 nanomesh on PET substrate as a kangaroo-patterned transparent and flexible circuit to light up a blue LED Source: Dr. Tengfei Qiu
D/M/D is made with a simple and cost-effective fabrication process. Researchers say that the material could replace traditional transparent conductive oxides like indium tin oxide (ITO). ITO is a material that is necessary for most of today's thin-film solar cells, laptop screens and smartphone displays. But ITO is a costly material due to its scarcity and its use is limited because it is very brittle.
D/M/D has the potential to lower household energy bills through application in smart windows. The material could create smart windows that electrically shift color and shift from opaque to transparent.
To create D/M/D, the team used a technique called nanosphere lithography, a deposition method that involves evaporating the desired combination of materials into a nanoscale pattern. The team integrated D/M/D structures into a nanomesh system, which created a shadow area of metallic nanomesh that is highly transparent.
The electrodes could be recycled. The team says that once a device with the electrodes has reached the end of its life, the electrodes can be removed, rinsed and reused in another device.
The team says that the next step is to explore the potential and create similar results on a larger scale which would make it more commercially viable.
A paper on this technology was published in Advanced Functional Materials.