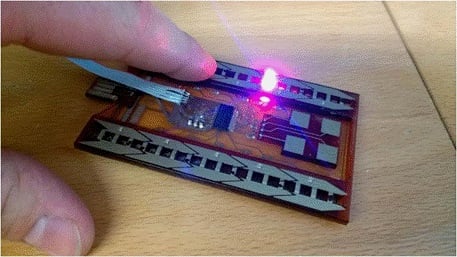 The 3D-printed touch sensor that was printed on the DragonFly LDM additive manufacturing machine. Source: Nano DimensionNano Dimension and Rehau have 3D printed a touch sensor that can be transformed into back-lit human-machine-interface surfaces.
The printing was done using the DragonFly LDM, an additive manufacturing machine that can produce non-standard shapes. The material can be used to develop functional devices for new applications for the smart home, smart mobility and internet-connected devices.
The 3D-printed sensors will help to accelerate new applications and speed up in-house electronics development as well as find new installation space and functions for products, Rehau said.