Design a full connector solution with a few clicks with the Han configurator from Harting.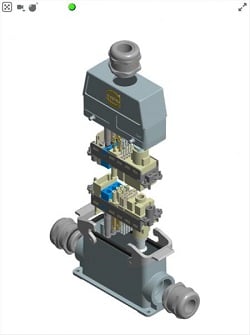 Source: Harting
The interactive connector configurator tool allows engineers and other users to select and customize electrical connectors that are used in a variety of industrial settings, including mechanical and plant engineering, broadcast and entertainment, factory automation, power generation and distribution, as well as electronics and telecommunication.
It takes just three inputs (contacts, voltage and current) and a handful of steps to generate the first possible solution. Suggestions for alternative interfaces can be found at the push of a button, and the current configuration is displayed as a 3D model that can be downloaded or saved to a myHARTING Account.
Users customize the connector by selecting from a variety of featured hoods, housings and corresponding modules. During the selection process, both male and female sides of the connector are shown. Once the customized connector has been configured, the application generates a list of specified materials including part numbers.