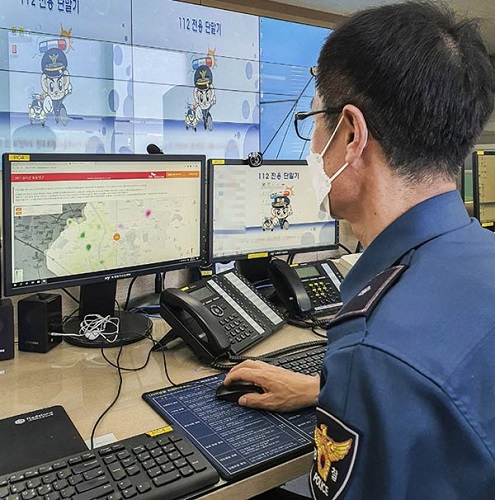 Geovision lets police see where crowds of people are in order to control COVID-19. Source: SK TelecomSK Telecom is working with the Gyeongbuk Provincial Police Agency to provide it with Geovision, a big data-based real-time floating population analysis service, in order to help detect and control the spread of the coronavirus.
SK Telecom said it will provide the service free to the police department until the Korean government declares an end to the outbreak of COVID-19. Geovision analyzes communication data generated between mobile phones and base stations in real-time to offer accurate location-based services and is widely used in areas including trade area analysis and demographic statistics.
The system will be used to contain the spread of coronavirus by pinpointing the areas with a dense floating population to enhance the efficiency of patrol operations. For example, upon detecting a crowded place in real-time, police can be dispatched to make sure people are implementing measures to reduce the risk of catching the virus.
Geovision is capable of analyzing real-time floating populations across any country every five minutes and can be applied with a self-developed big data analysis platform called Geo Intelligence Rapid Analytics framework (GIRAF), which can analyze up to 60 terabytes of data every five minutes and deliver visualized data results to clients.
The technology can also be used with pCell, a mobile network technology that calculates the number of people located within a targeted area by virtually partitioning each base station's coverage area into lattices measuring 10 m x 10 m.
The move by SK Telecom is one of many ways in which technology is being used to combat the coronavirus. In China, drones and robots are being used to spray down streets and to deliver food and medicine to those that are quarantined. Smart glasses have also been developed in order to check the temperature of people remotely and a portable artificial intelligence device can detect illnesses such as COVID-19.