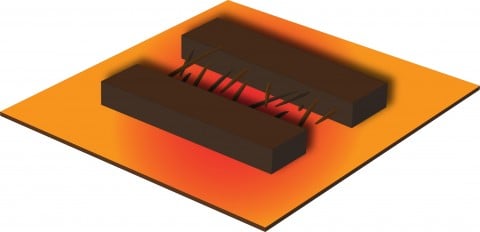 Nanowire illustration.An international team of scientists, using tiny copper oxide nanowires, has developed a nanosensor capable of quantifying carbon monoxide concentration in the atmosphere. The ultra-tiny nanowires chemically react with the noxious gas, creating an electrical signal that can be used to quantify CO concentration.
The biggest challenge facing the team, led by the Okinawa Institute of Science and Technology Graduate University, was overcoming two main obstacles that have hampered the use of nanowires.
The first problem, researchers said, was integrating the nanowires into devices that are big enough to be handled and that can also be easily mass produced; the second is the ability to control the number and position of the nanowires in those devices.
To create copper oxide nanowires, the neighboring copper microstructures need to be heated, the researchers explained. Starting from the microstructures, the nanowires grow and bridge the gap between the microstructures, forming an electrical connection between them.
Researchers integrated the copper microstructures on a so-called micro-hotplate. Developed especially for this project, the micro-hotplate is actually a thin membrane that can heat up to several hundred degrees C, but with very low power consumption. It's this hotplate that gives the researchers a high degree of control over the quantity and position of the nanowires while also providing data on the electrical signal that passes through the nanowires.
The result is an exceptionally sensitive device, capable of detecting very low concentrations of CO. Researchers believe the process could lead to the next generation of nanowire-based miniaturized gas sensors.