The market for electric vehicles (EVs) in the automotive industry is growing, but represents a small percentage of the overall market for cars.
But this is destined to change because not only is demand for EVs growing among consumers, but range anxiety is also going away as consumers who buy electric cars are finding more charging stations when they travel.
Additionally, most automotive OEMs are changing their culture from purely gasoline-centric vehicles to having a majority of EVs in their fleet. There are numerous reasons why, but most automotive OEMs equate this change in philosophy to changing consumer opinions regarding EVs, concern over the environment and technological advances allowing vehicles to be built faster, more reliably and with greater range.
U.S. OEMs Ford and General Motors both dismissed several of its respective staff members while simultaneously investing in infrastructure to power future EVs and self-driving cars. Volvo and Volkswagen have also announced that they plan to be EV-centric in the next five years. Japanese and Korean automotive OEMs including Toyota, Honda and Hyundai are following suit and are on track to include more electric cars in their fleets in the next five years as part of a long-term goal to encourage growth in electrified mobility.
Audi introduced its first all-electric vehicle in 2018, the e-tron, and has plans to introduce three more EVs this year, as well as three plug-in hybrid models. The e-tron lithium battery management unit is used for real-time control of each battery cell, communicates with external devices, measures temperature, voltage and more.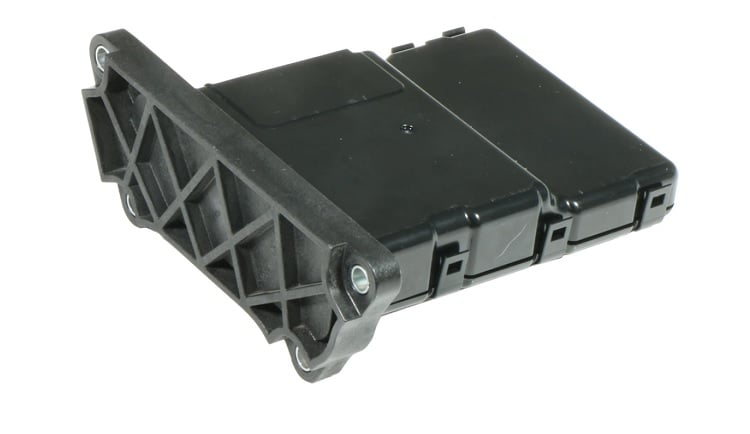 The back side of the e-tron lithium battery management unit. Source: IHS Markit
Summary points
Battery management unit for a3 e-tron battery module
Consists of control PCB assembly in plastic housing
Total manufacturing cost: $37.86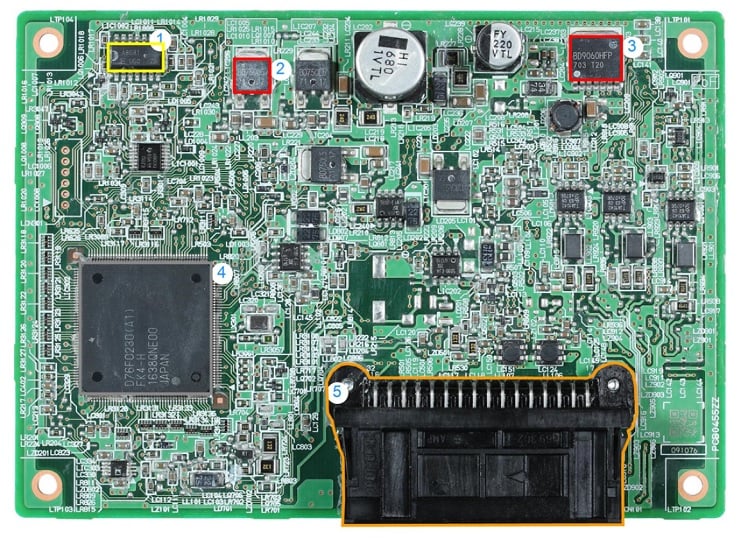 The main module's PCB board and components. Source: IHS Markit
Main PCB
1. Seiko Epson Corp., RA-8581SA, real-time clock IC, I2C bus, 400 KHz with 32.768 KHz crystal.
2. Rohm Co. Ltd., BD750L5FP-CE2, regulator, LDO, 5 V, 500 mA, 2%.
3. Rohm Co. Ltd., BD9060HFP-CTR, regulator, DC-DC converter, step-down, adjustable.
4. Renesas Electronics Corp., UPD76F0230, 32-bit MCU.
5. TE Connectivity, 969302-1, pin header, vehicle I/O, dual row, right angle, shrouded.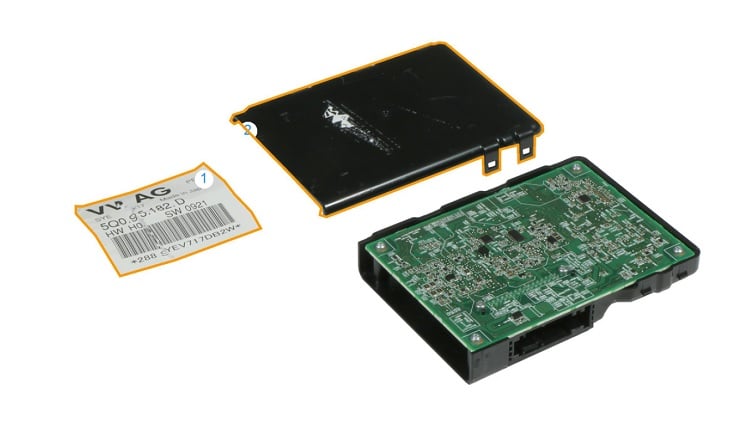 The main enclosure of the Audi management module. Source: IHS Markit
Main enclosure
1. Label, mylar, die-cut with PSA.
2. Enclosure, main, to, injection molded flame retardant polyphenylene ether polystyrene.
Major components
MCU, 32-bit automotive. MFR: Renesas Electronics Corp. (Qty. 1)
Regulator, LDO, 5 V 500 mA, 2%, automotive. MFR: Rohm Co. Ltd. (Qty. 3)
Battery mounting unit mounting bracket, injection molded glass-filled polyamide, with four metal inserts. (Qty. 1)
Four-layer, FR4, lead-free (Qty. 1)
Pin header, vehicle I/O, dual row, right angle, shrouded, automotive. MFR: TE Connectivity (Qty. 1)
Power switch, one-channel, high-side, 3 A, automotive. MFR: Infineon Technologies AG (Qty. 3)
Enclosure, main, bottom, injection molded flame retardant polyphenylene ether polystyrene. (Qty. 1)
Regulator, DC-DC converter, step-down, adjustable, 2 A, automotive. MFR: Rohm Co. Ltd. (Qty. 1)
Enclosure, main, top, injection molded flame retardant polyphenylene ether polystyrene (Qty. 1)
Voltage reference, precision, 3.3 V, 0.1%, automotive. MFR: Analog Devices (Qty. 1)