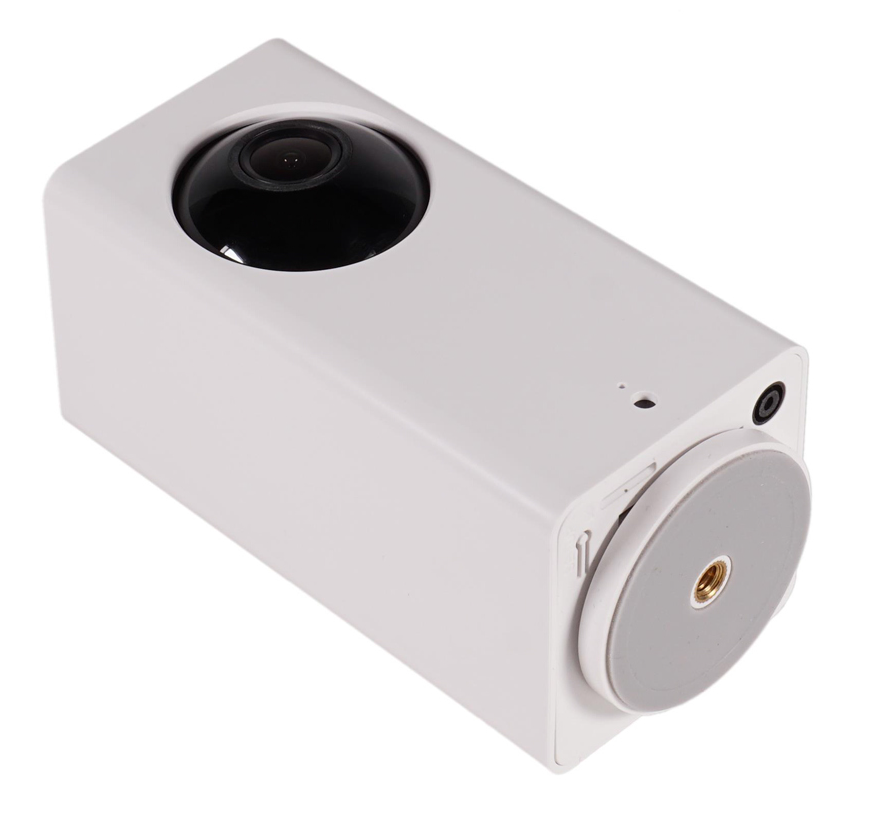 Wyze Cam Pan device overview. Source: IHS Markit
Wyze is a smart home camera manufacturer that espouses a low-profit-margin strategy designed to keep costs low without sacrificing quality. Its Cam Pan boasts 360° horizontal and 93° vertical coverage along with a 110° per second rotation speed, giving it the ability to take in a full-circle view in less than three seconds. Up to four custom way points can also be set within the camera's patrol route; motion within its field of view can be automatically detected, tagged and tracked in real time. Two-way audio is also supported. Additional camera specs include 1920 x 1080 resolution, a 120° wide-angle lens, 8x digital zoom and six infrared LEDs that distinguish 18 steps of gray to provide enhanced night vision.
The following is an overview of a teardown analysis conducted by IHS Technology Teardown Services.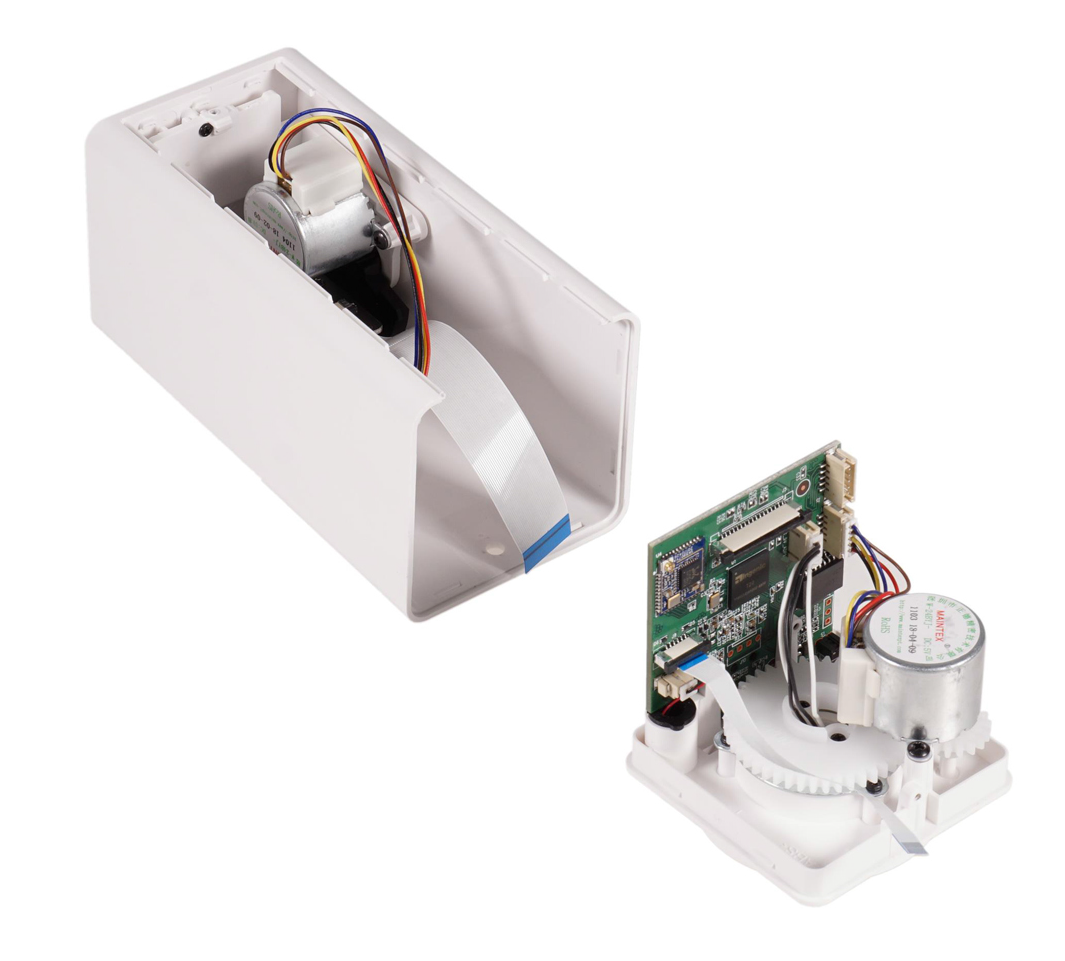 Wyze Cam Pan main enclosure. Source: IHS Markit
Summary points:
1080P pan and tilt smart home camera
INGENIC T20 smart video processor
1Gb DDR2 / 128Mb NOR flash
360° pan / 93° tilt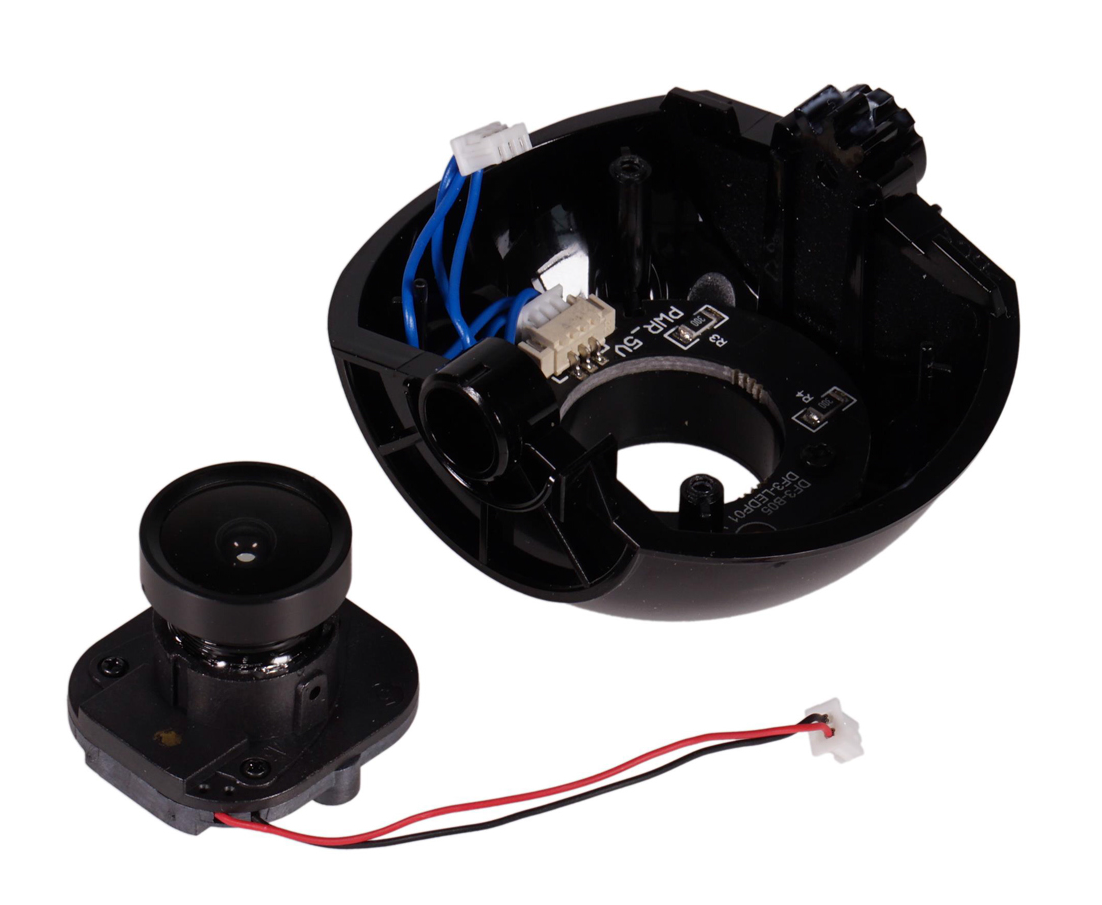 Wyze Cam Pan main enclosure (lens assembly module at bottom left). Source: IHS Markit
Target market: Mass market
Released: Q2 2018
Pricing: $29.99 USD
Availability: Worldwide
Total manufacturing cost: $30.03 (including direct materials and manufacturing)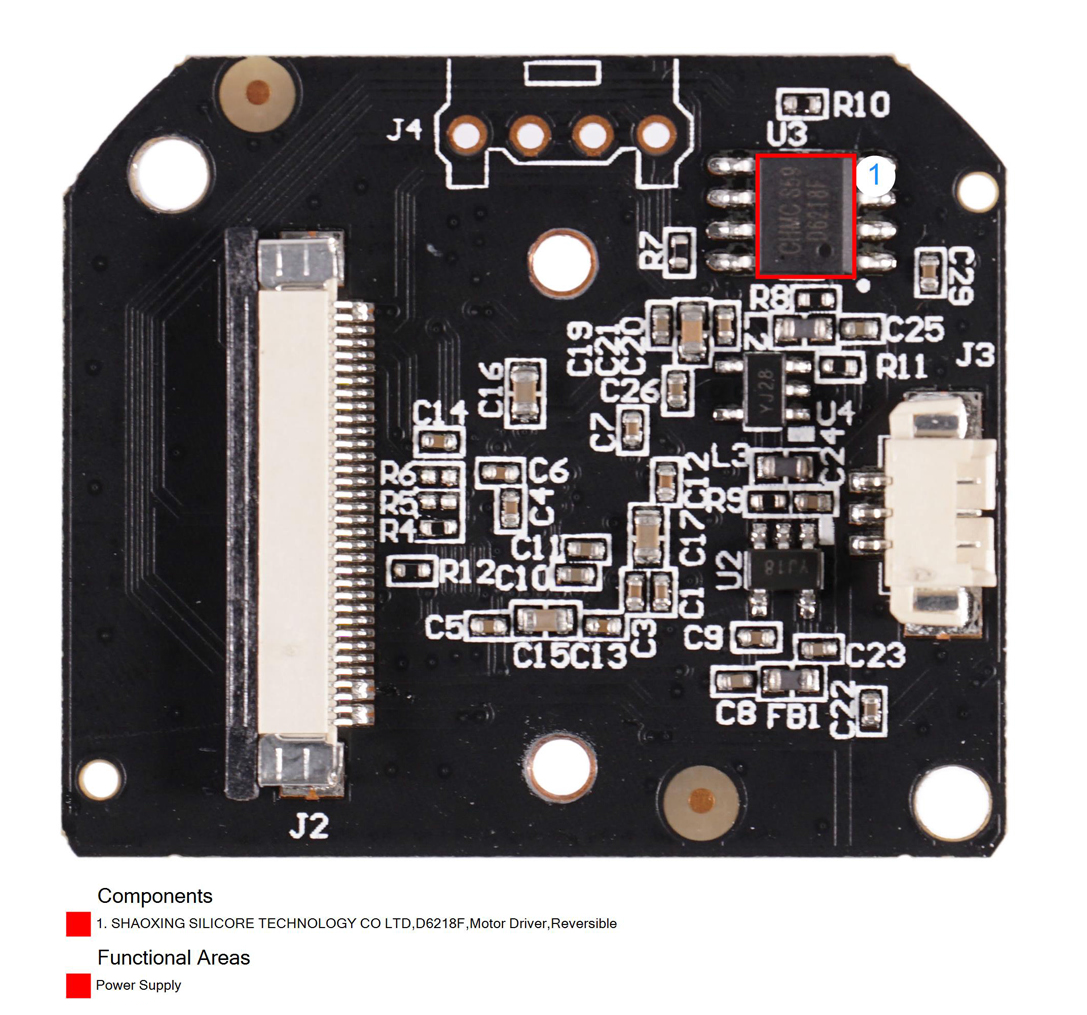 Wyze Cam Pan image sensor PCB (bottom). Source: IHS Markit
Major components:
Smart Video Processor, 1GHz XBurst1 RISC CPU Core, MXU2.0 IVS Engine, 128-Bit SIMD Engine, 1Gb DDR2, 64KB L1 Cache, 128KB L2 Cache - MFR: INGENIC SEMICONDUCTOR CO LTD - MPN: T20 - (Qty: 1)
Lens Assembly, Fixed Lens, 2P Glass, w/ Machined Aluminum Lens Barrel, & Integrated IR Cut Switching Mechanism - (Qty: 1)
AC Adapter, 5V, 2A, AC to USB Type A - MFR: KE YU DIAN YUAN (HONGKONG) INTERNATIONAL LTD - MPN: KA1517-0502000USU - (Qty: 1)
Stepper Motor, Geared, 5V, w/ 5 Discrete Insulated Wires & 1 5-Position Pin Socket Connector - MFR: SHENZHEN MAINTEX INTELLIGENT CONTROL CO LTD - MPN: W-24BYJ - (Qty: 2)
Image Sensor, 2.1MP, CMOS, 1/2.7" Format, 3um x 3um Pixel Size, 5.76mm x 3.24mm Active Image Area - (Qty: 1)
WLAN Module, IEEE802.11 b/g/n, 2.4GHz, Contains Realtek RTL8189ETV - (Qty: 1)
Flash, NOR, 128Mb, 104MHz, Quad I/O, SPI - MFR: GIGADEVICE SEMICONDUCTOR BEIJING INC - MPN: GD25Q127CSIG - (Qty: 1)
Enclosure, Main Housing, Injection Molded ABS - (Qty: 1)
Regulator, DC-DC Converter, Synchronous Step-Down, Adjustable, 1A - MFR: TEXAS INSTRUMENTS INC - MPN: TLV62568DBV - (Qty: 3)
USB Cable, Type A to Micro USB, 5.91ft - (Qty: 1)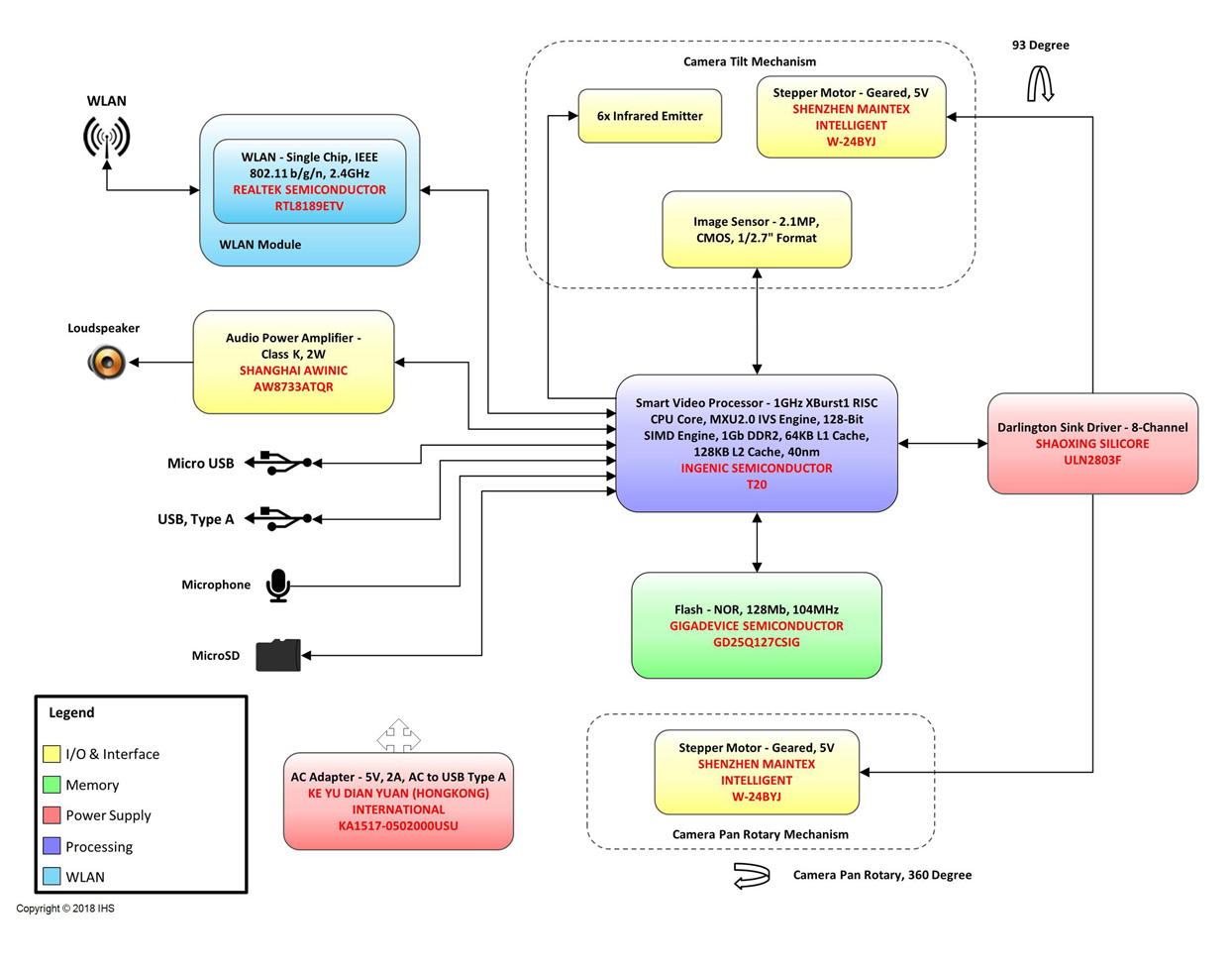 Wyze Cam Pan device overview/flowchart. Source: IHS Markit