Plans for construction of a sustainable city that will serve as a test bed for the development and demonstration of robotics, personal mobility and artificial intelligence (AI) technologies were announced by Toyota Motor Corporation at CES 2020 in Las Vegas.
Construction of the hydrogen fuel cell-powered Woven City on a 175-acre site near Mt. Fuji in Japan is planned for early 2021. The city will be designed by Danish architectural firm Bjarke Ingels Group and feature low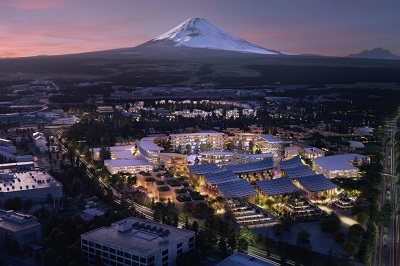 Artist's conception of the sustainable city at the base of Mt. Fuji. Source: Toyotacarbon footprint wooden buildings assembled with traditional Japanese wood joinery and advanced robotic production technologies. Rooftop solar systems will augment the power supplied by hydrogen fuel cells, and residences will be equipped with robotics and sensor-based AI systems to assist with daily tasks and monitor occupants' health.
Streets will be designated for faster vehicles, for a mix of lower speed personal mobility vehicles and pedestrians, and for pedestrians only in a park-like thoroughfare. These three street types weave together to form an organic grid pattern to help accelerate the testing of autonomy.
Only fully autonomous, zero-emission vehicles will be allowed on main thoroughfares while autonomous Toyota e-Palettes will be used for transportation and deliveries citywide.
The company is seeking additional partners for the development of Woven City, which will have an initial population of 2,000.