A label-free chip-based sensor could offer an alternative to expensive, invasive methods of cancer biomarker detection. The sensor with integrated laser detects low levels of the S100A4 cancer protein biomarker in urine samples.
The device identifies the presence of specific molecules by illuminating a sample with light from an on-chip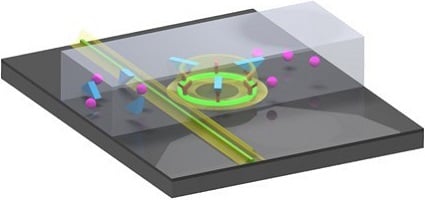 The sample is illuminated by an on-chip microdisk laser. Source: Rick Seubers, University of Twentemicrodisk laser. When the light interacts with the biomarker of interest, the color, or frequency, of laser light shifts in a detectable way. The laser was fabricated with aluminum oxide doped with ytterbium ions to yield an instrument that emits in a wavelength range outside the light absorption band of water, while enabling the precise detection of biomarkers.
When tested with a surface coating formulated to capture biomarkers on interest and a synthetic urine containing known biomarker levels, the microdisk laser detected S100A4 at concentrations as low as 300 picomolar. The researchers plan to develop different coatings to allow parallel detection of diverse biomarkers.
Researchers from University of Twente (The Netherlands), the Barcelona Institute of Science and Technology (Spain), University of Barcelona (Spain), Centro de Investigación Biomédica en Red (Spain) and LEITAT Technological Center (Spain) contributed to this study, which is published in Optics Letters.