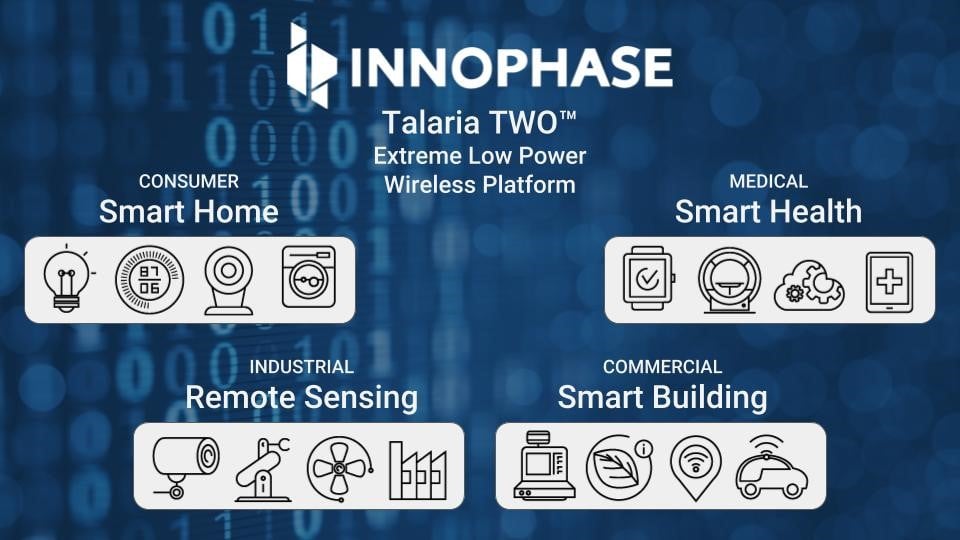 Source: InnoPhaseWith the rapidly growing acceptance of smart technology for home and office, the wireless connectivity market valued at $44.34 billion in 2017 is predicted to grow to $95.66 billion by 2023. However, the convenience of wireless connectivity for battery-based edge-of-network IoT devices, such as smart doorbells, outdoor security cameras or monitoring devices, has been eclipsed by the amount of power Wi-Fi requires. To solve this problem, InnoPhase, a startup based in San Diego and Stockholm, has introduced a patented Wi-Fi connectivity platform with high bandwidth that significantly lowers the power requirement for these devices.
The underlying IQ radio architecture that currently powers much of the IoT is 25-year-old technology that relies on analog circuits. The IQ radio, not the application, consumes most of the power. A typical sensor uses 93% of the application power budget and takes up as much as 60% of the chip die area. Batteries must be charged or replaced too often to be practical in high-data throughput or direct-to-cloud applications. As a result, users often forego the wireless connection and hardwire the devices instead. Hardwiring, however, limits a device's capabilities and doesn't work for applications in hard-to-reach locations such as a backyard security camera in a tree or wearables such as a pet collar.
InnoPhase offers an ultra-low power alternative that incorporates the advantages of digital technology. The company reports that its PolaRFusion digital radio architecture reduces Wi-Fi power consumption by two to eight times, compared to leading low-power chip sets using IQ radio architecture. A battery that lasted three to six months with the analog-based technology, can last up to a year with InnoPhase's Talaria Two chip, without compromising speed or distance.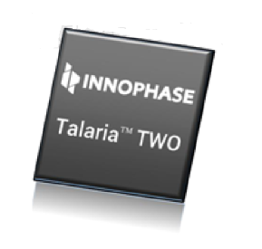 Source: InnoPhase
Thomas Lee, vice president of sales and marketing at InnoPhase, explained that one of the main benefits for engineers designing edge-of-network IoT applications comes into play when the device "sleeps." These applications are in sleep mode 95% or more of the time and only check their sensors every few seconds or minutes. With Wi-Fi, however, the application wakes up to connect about every 300 milliseconds so it is not dropped from the network. This takes a large amount of power with the current technology. "The Talaria Two is the lowest power Wi-Fi chip in the industry, by a large margin, for these edge-of-network type apps," Lee said.
Another advantage is that InnoPhase's software-defined radio feature and chip can transmit and receive in Bluetooth (BLE5.0) as well as Wi-Fi, and can switch between protocols in microseconds. Other protocols can be added to run alongside Wi-Fi and BLE as well.
InnoPhase will begin shipping in the fourth quarter of 2019. Learn more at
InnoPhase
.