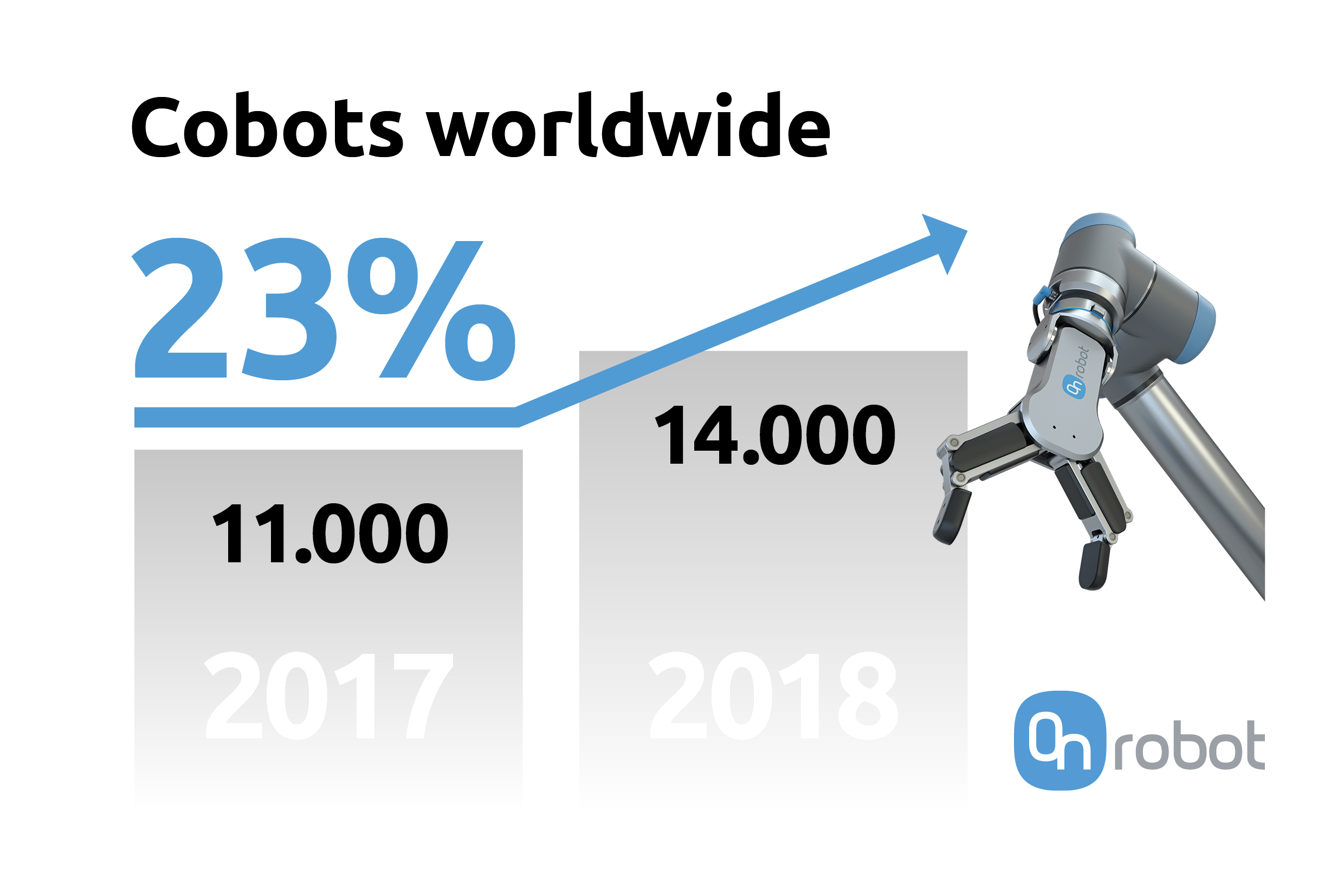 The IFR's latest World Robotics report shows an upward trend for cobots. Source: OnRobotFor the first time, the annual World Robotics report from the International Federation of Robotics (IFR) has included an analysis on the market for collaborative robots, also known as cobots.
Designed to perform tasks in the same workspace as human workers, the devices currently represent something of a niche market. Yet the new report notes that annual installations increased by 23% from 2017-18. Moreover, in its recent paper "De-mystifying collaborative robots," the IFR notes that the market for collaborative robots is still in its infancy. "Technology developments in sensors and grippers hold promise for expanding the range of actions that the robot end-effector can perform," the report states.
Danish company OnRobot also sees end-of-arm-tooling (EoAT) — capabilities such as assembly, surface finishing, pick-and-place, machine testing and tending — as a notable area for growth in this segment. The company already offers a unified mechanical and electrical interface, the One-System Solution, between its EoAT technology and a range of light industrial robots and cobots. In a statement released just after the publication of the IFR report, OnRobot stated its plans to increase product portfolio by a factor of five by 2020.
The United States is a major market for the company; robot sales there increased for the eighth year in a row to reach over 40,000 units by 2018. There is room to grow, however; the U.S. ranks below several other nations in terms of robot density, or number of robots per 10,000 people, as defined by the IFR report.
"The U.S. market is far from saturated," said Kristian Hulgard, general manager for the company's Americas division. "With record low unemployment, U.S. manufacturers face labor shortages while also struggling to compete with low-wage countries. Automation is their only solution to this multi-faceted challenge, and we're well-positioned to seize this opportunity."
An analysis from technology market advisory firm ABI Research forecast the yearly revenue for cobot arms at $11.8 billion by 2030; that number jumps to $24 billion, with a compound annual growth rate of 28.6%, when revenue from software and EoAT is added. While acknowledging that cobots hold only a small percentage of the overall industrial robot market, ABI stated that growth is related not only to adoption but to "the increasing convergence between the two sub-groups." Industrial robots, in other words, are on track to receive some of the same capabilities that make cobots so intriguing: advances in areas such as sensors, machine vision and motion control.
"We have only seen the beginning of amazing growth in the cobot area, alongside the current rise of industrial robots," said OnRobot's CEO Enrico Krog Iversen.