Delivering parts and materials to the production line is an essential part of any manufacturing operation. Automated material handling systems (MHS), and more specifically, cobots are used to move these items. There are two types of cobots: electric and pneumatic. Which one is best for your facility? Let's take a look at the pros and cons of each system.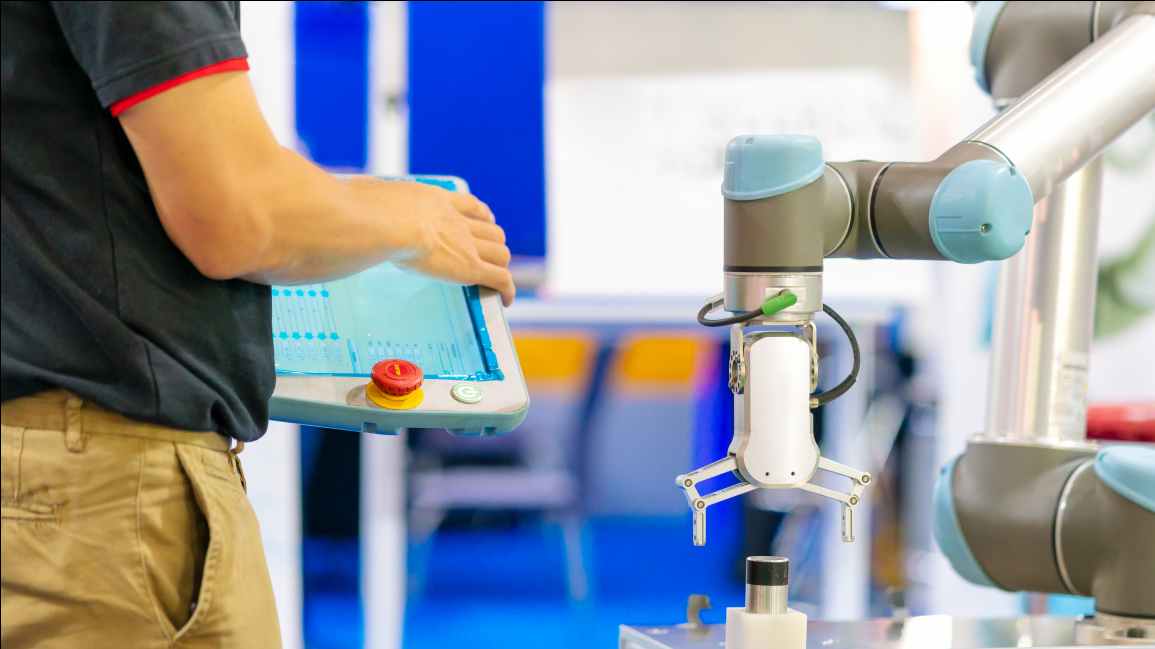 Source: Nay/Adobe Stock
What are cobots?
Cobots are collaborative robots, designed to work safely and effectively alongside humans in a variety of settings. In recent years, the cobot market has seen substantial growth, as these versatile machines have become increasingly affordable and easy to use.
There are many reasons for the growing popularity of cobots. One is that they can perform tasks that are dull, dirty or dangerous, freeing up employees for more interesting and rewarding work. Cobots are also highly versatile and can be quickly reconfigured to perform different tasks as needed. Additionally, they can be used in a wide range of industries, from manufacturing and assembly to healthcare and hospitality.
With all of these advantages, it's no wonder that the number of cobots in operation is expected to grow exponentially in the coming years. As the technology continues to evolve, it's likely that cobots will become an even more integral part of our workforce, helping us to increase productivity and efficiency while keeping workers safe.
Benefits of newer pneumatic cobots over their traditional electric counterparts
As the industrial robotics landscape continues to rapidly evolve, manufacturers are looking to turn to pneumatic cobots as a versatile and powerful automation solution. Pneumatic cobots offer several advantages over their electric counterparts, including being lighter, having greater flexibility and dexterity, and easier integration into existing pneumatic systems. Here's a closer look at some of the key benefits of newer pneumatic cobots:
Light and versatile: Pneumatic cobots are much lighter than their electric counterparts, which makes them easy to install and move around within the workspace. This also allows for greater dexterity and flexibility when completing tasks.
Easier integration: Pneumatic cobots can be easily integrated into existing pneumatic systems, simplifying the overall automation process. Electric cobots, on the other hand, often require the installation of dedicated electrical infrastructure, which can be costly and time-consuming.
More durable: Pneumatic cobots are also more durable than electric models, thanks to their air-powered cylinders. These cylinders are designed for repeated use and can withstand much higher forces than electric motors. This makes pneumatic cobots ideal for applications in harsh or difficult-to-reach environments.
Safer operation: Pneumatic cobots are safe to operate around humans thanks to their soft, lightweight construction. Their enclosed design also protects workers from exposure to moving parts and compressed air.
Low-code programming: One of the advantages that pneumatic and electric cobots share is their low-code programming. Low-code programming is a type of coding that uses graphical user interface (GUI) tools to create software applications with less code than traditional methods. This makes it much easier and faster to develop applications, which reduces development costs and time-to-market. Additionally, low-code programming makes it easier to update and modify applications as needed, which further enhances flexibility.
Limitations of pneumatic cobots relative to electric models
Pneumatic cobots have some limitations compared to electric models. One of the most prominent advantages that electric cobots possess over pneumatic version is that they offer complete motion control. While pneumatic models are relatively restricted in terms of control, electric ones provide users with infinite points of control. This allows for much more precise and streamlined movements that can be adapted on the fly to better suit the needs of the task at hand.
Another limitation of pneumatic cobots is that they require a constant supply of compressed air, which can be costly and inconvenient. Additionally, compressed air often contains water, which can rust or damage sensitive components within the cobot. Electric models, on the other hand, are powered by batteries or an external power source, which eliminates the need for a constant supply of compressed air.
Finally, electric models are typically stronger than their pneumatic counterparts. This is because electric motors are generally more powerful than pneumatic cylinders. As a result, electric models can typically handle heavier payloads and perform more strenuous tasks.
Overall, electric cobots offer several advantages over pneumatic models in terms of motion control and power. As a result, they are still often the preferred choice for industrial and commercial applications.
Pneumatic cobots are a relatively new technology
Pneumatic cobots are a relatively new technology that is seeing significant developments. Cobots are becoming increasingly popular in manufacturing and other industries due to their ability to work safely alongside humans. In the coming years, we can expect to see further developments in pneumatic cobot technology that will allow them to become even more versatile and effective tools for industrial and commercial applications.
The best-known pneumatic cobot on the market at the moment has been built and developed by Festo. Referred to as the "world's first pneumatic robot," this device was designed specifically for human-robot collaboration in industrial settings. The Festo pneumatic cobot is a device that can be used to assist humans in tasks such as material handling, assembly and testing.
One of the key advantages of the Festo pneumatic cobot is its safety features. The robot's arms are equipped with sensors that allow them to stop moving if they come into contact with a human. Additionally, the robot's control system is designed to limit its speed and force, ensuring that it cannot injure a human operator.
While the Festo cobot is certainly an impressive piece of machinery, it is just one example of what pneumatic cobots are capable of. In the coming years, we can expect to see even more advances in pneumatic cobot technology that will make these robots even more versatile and effective tools for industrial and commercial applications.
What do you think of pneumatic cobots versus traditional electric models? Do you think pneumatic will eventually take over or is there utility for both versions on the market? Engineering360 would love to hear your thoughts in the comments below!