Power
'Universal-input' power supplies address world-wide challenges
24 July 2019
Sponsored content
Universal power supplies that operate across a wide input range greatly simplify product design, manufacturing, supply chain and long-term support, while also meeting many regulatory requirements.
Electromagnetic compatibility
System designers who must incorporate line-powered switching and linear power supplies into their products often face a dilemma with respect to the input-voltage reality. It is not just the different AC mains plugs and sockets that are the concern. Since the nominal line voltages fall into two major categories — one centered at 120 V AC/60 Hz and the other at 240 V AC/50 Hz — supporting both AC ranges can mean specifying two similar-yet-different supplies. This inevitably brings sourcing, bill of materials (BOM), testing and field-support issues.
The situation becomes more challenging as there is a wide range of voltages, and even some frequency variance, around those nominal values. Typically, the 120 V AC line can range from 90 to 140 V AC, while the 240 V AC line can span about 208 to 265 V AC under low- and high-line extremes. A supply designed only for the nominal 120 V AC or 240 V AC line voltage will likely not be able to properly regulate or be stressed at the extremes, resulting in erratic system operation and hard-to-diagnose intermittent faults.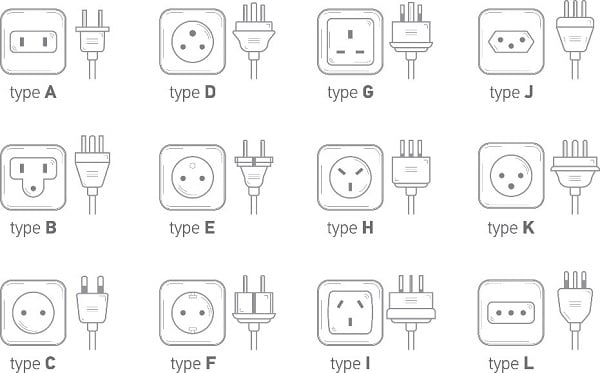 Fortunately, there is a technical solution that largely solves the problem -- and does so with few, if any, compromises
.
A "universal-input" supply can handle any line voltage from 90 V to 265 V AC, 50/60 Hz. Some of these universal supplies can go beyond basic 50/60 Hz operation and support a wider frequency range such as 49 Hz to 420 Hz; others can use DC inputs as well as AC mains.
Why go universal?
By selecting a universal supply and thus requiring only a single stock keeping unit (SKU), designers simplify all aspects of the product design and life cycle, get better pricing and delivery and minimize field-replacement issues. A well-designed and properly qualified universal supply also ensures that field problems due to low- or high-line issues are minimized.
Perhaps even more important, a single universal supply meets all relevant worldwide regulatory mandates covering efficiency, electromagnetic interference, power factor, electromagnetic compatibility and other issues, all of which can add complexity to design and manufacturing. In effect, the potential confusion and supply-chain inefficiencies inherent to addressing regional differences in mains voltages and regulatory standards becomes a non-issue.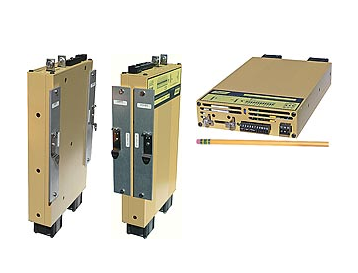 Figure 2: Acopian Low Profile series. Source: Acopian Power Supplies
For example, units in the Acopian Low Profile series of switching regulated power supplies (to 720 W) operate from 90 V to 265 V AC, 49 Hz to 420 Hz (or 110 to 350 V DC) and deliver up to 70 Amps depending on case style and AC or DC input. Switching at 110 kHz, this universal input supply also incorporates the near-unity power factor correction (0.99 typical at 115 V AC/60 Hz and full load) that is mandated in many regions. Standard, factory-set outputs span 3.3 V to 135 V­ — a large range — and efficiency is to 79%, depending on input/output voltage and load combination.
Going beyond universal
Designing a universal supply that is fully specified, validated and qualified is not a simple exercise. Supply designers can change primary turns, wire size and other factors, but only up to a point. Just adding more transformer turns is often not a viable solution as it adds too much resistance; extending input-voltage range is about more than just turns ratio.
An experienced vendor knows how to tweak subtle factors such as wire gauge, transformer winding, core material and others to enhance performance. The same vendor knows how to avoid tweaks that will result in a significant negative impact.
There are also cases where a wider-range 120/240 V universal supply may not be feasible. Universal supplies cannot extend their span to encompass less-common, non-standard nominal inputs such as 56 V AC, as used in some applications; and 48 V AC or even 24 V AC, which may be preferred for creating intrinsically safe industrial situations. There are also special frequencies in addition to 50/60 Hz; examples include the 400 Hz used in military and aerospace applications, and the 25 Hz frequency used in old power systems at sites such as the Niagara Falls generating installation, among others.
Universal supplies face this inevitable engineering reality: Although their performance is quite good with respect to efficiency, input/output regulation and other parameters, their universality creates design tradeoffs. In some cases, a non-universal supply can be optimized for a specific situation, and it may be able to provide better performance.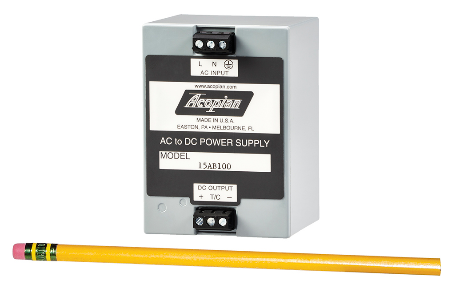 A common misconception about linear supplies, which generally offer superior noise and transient performance to switching supplies, is that they cannot handle wide input ranges. The
Acopian Mini Encapsulated series
of AC/DC linear supplies operates from a 105 V to 125 V AC, 47 Hz to 63 Hz, single-phase line and delivers a preset DC output within ±2% (for 3.3 V to 12 V models) or ±1% (for 15 V to 48 V models) of the nominal output voltage, at up to 2.5 A. Other input values are available for this unit as standard products, including 230 V AC, 208 V AC, 100 V AC and 24 V AC — all for 47 Hz to 63 Hz operation.
Going 'special'
For applications where a standard, off-the-shelf supply is not suitable, the next-best solution is to work closely with a vendor who is knowledgeable about both wide-range supply design and supply "specials." A broad-range vendor of both linear and switching supplies will have the experience, technical expertise, models and simulation to modify standard units to provide voltage or frequency specials. Such a vendor will often be able to provide this service with little or no non-recurring engineering (NRE) expense, and with minimal lead time. Equally important, vendors who fall into this category are positioned to provide the needed technical and regulatory qualification and certification, and to explain any tradeoffs of the design.
Conclusion
When it comes to providing an AC/DC power-supply solution that is compatible with nearly all nominal, low- and high-line voltages and frequencies worldwide, including DC-rail inputs, a universal switching or linear supply is often the best choice. It combines off-the-shelf availability with ease of sourcing and support, streamlines the supply chain and eliminates concerns about regulatory compliance issues.
At the same time, there will be cases where a universal supply simply cannot meet the needed voltage or frequency range, or where it provides a solution that falls short in one or more application parameters. In these cases, the most sensible decision the supply user can make is to work closely with a vendor possessing broad product line and in-depth experience. Vendors like Acopian can identify whether a non-universal solution is already available that meets the requirements, or if a special unit can be developed with minimal time, technical uncertainty and cost.
Find Free Electronics Datasheets