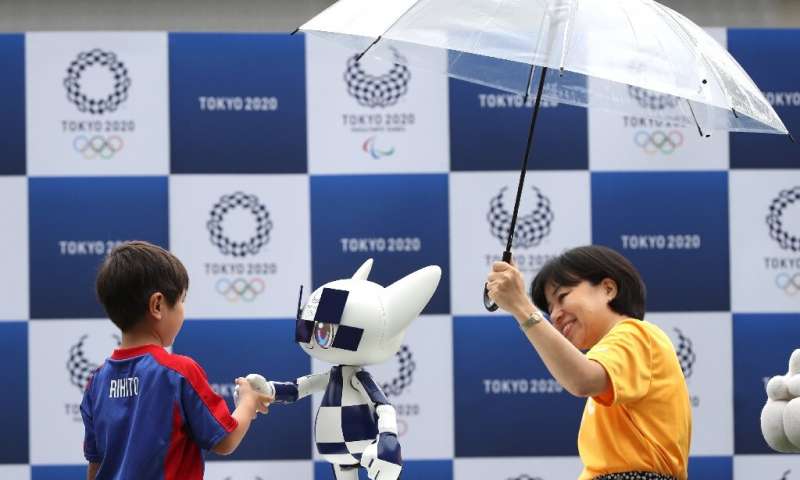 A robotic version of Tokyo's mascot for the 2020 Olympics was unveiled at a ceremony marking one-year until the Games begin. Source: AFP
Ahead of the 2020 Tokyo Olympics, organizers are debuting robots that will assist athletes, spectators and officials at Olympic venues as part of the 2020 Olympics' Robot Project.
Automaker Toyota will deploy Olympic and Paralympic robotic mascots Miraitowa and Someity to greet athletes and guests arriving for the 2020 Olympics. The robots, outfitted with remote-controlled arms and joints, will be capable of shaking hands and waving. Likewise, they will have cameras so they can recognize when someone is nearby and respond to them with a host of facial expressions.
The T-HR3 Humanoid robot and the T-TR1 robot will immerse people in the Olympics experience in different ways. The T-HR3 Humanoid robot will emit sounds and images from the games to remotely located partner robots. The T-TR1 is a virtual mobility bot outfitted with a camera and life-size display that enables spectators to virtually attend the games.
The Field Support robot is another robot that will be in attendance at the 2020 Tokyo games. This robot autonomously retrieves objects like javelins, hammers and discusses from the field, and assists staff members along courses to avoid potential obstacles.
"Humans are better suited to picking up heavy equipment from the field, but for quickly transporting them to their respective return depots, that's a job that's best performed by robots," Takeshi Kuwabara, a project planning manager who oversaw the robot's development explained.
Earlier this year, two more robots were announced as part of the Robot Project. Toyota's Human Support Robot (HSR) assists wheelchair users attending the Olympics by carrying their food and other products. Panasonic's Power Assist Suit is a battery-powered exoskeleton that will be worn by workers at both the Olympic and Paralympic venues as well as by those working in the athletes' village.
More robots are expected to join the lineup as the 2020 Olympics' July 24, 2020, start date nears.