Vishay's new automotive-grade WFM Power Metal Plate current sense resistors feature 2 W and 3 W power ratings in 2010- and 2512-sized packages. The new WFM resistors allow designers to use a single high-power resistor instead of running multiple resistors in parallel, which can cause current measurement errors. Improving power density also promotes circuit board space savings, resulting in smaller and lighter products for the end consumer.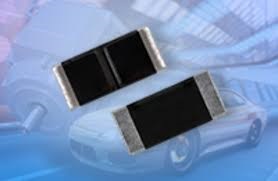 The WFM's improved thermal management design uses a copper heat spreader, which maintains the electrical characteristics of the Power Metal Plate construction. A proprietary processing technique enables a wide range of low resistance values, from 5 mΩ to 500 mΩ, with tolerances down to ±1%.
The devices are appropriate for all types of current sensing and pulse applications in automotive electronic controls, brushless DC motor controls and battery management for electric and hybrid vehicles; high-power inverter/converter controls and large motor drives for industrial applications; power supplies for downhole instrumentation; inverter control for consumer appliances and HVAC systems; and power management, conversion and safety in servers and other computing applications.
The RoHS-compliant, halogen-free and Vishay Green resistors feature a solid metal manganese-copper or nickel-chromium alloy resistive element, with low temperature coefficients of resistance (less than 20 ppm/° C), low inductance values of 0.5 nH to 5 nH, low thermal EMF to less than 3 µV/° C, and an operating temperature range of -65° C to 170° C.
Visit Vishay at Booth 1011 at the Sensors 2019 Expo and Conference, June 25-27, in San Jose.