Researchers at the Hefei Institutes of Physical Science (HFIPS) of the Chinese Academy of Sciences (CAS) have achieved a high power, high efficiency and quasi-continuous mid-infrared laser in the free running and langasite Q-switched modes by using the Er3+ ions-doped YAP crystals as laser gain medium.
Mid-infrared lasers are used in laser surgery and optical parametric oscillator (OPO).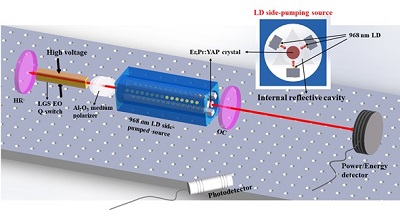 A schematic of the LD side-pumped Er(Pr):YAP laser. Source: HFIPSResearchers improved the laser performance of Er:YAP laser crystal by laser-diode (LD) side-pumping method, a Er:YAP crystal rod with concave end-faces was used to compensate the thermal lensing effect.
The maximum output power of 26.75 W was achieved at 250 Hz and 13.18 W at 1,000 Hz. This is the highest working frequency in all the LD side-pumped Er-doped MIR laser so far, researchers said.
Researchers also demonstrated a LD side-pumped and electro-optical Q-switched Er/Pr:YAP laser with emission at 2.7 μm. A giant pulse was used with pulse energy of 20.5 mJ, a pulse width of 61.4 ns and peak power of 0.33 MW at a high working frequency of 150 Hz.
The results found that Er3+-doped YAP crystals could be used for high power and high frequency mid-infrared laser devices that could be a potential new device for dental ablation surgery and OPO pump source.