U.S. Los Alamos National Laboratory researchers incorporated colloidal quantum dots (CQDs) into a new type of electrically pumped LED containing an integrated optical resonator, which also allows the device, when optically pumped, to function as a laser. The advance could lead to the streamlined mass production of electrically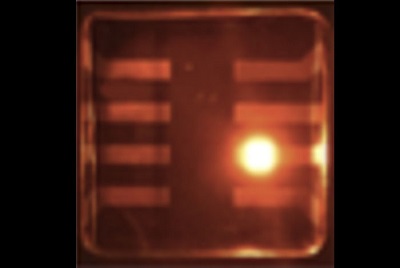 CQDs operating in LED mode. Source: U.S. Los Alamos National Laboratorypumped CQD lasers.
The device emits at 618 nm with a quantum yield of about 80%, and as the output wavelength can be tuned by changing the size of the CQDs, the technology can potentially result in lasers with wavelengths anywhere within a broad spectrum. Solution-processable CQD lasers can be manufactured in less-challenging factory conditions than conventional semiconductor laser diodes, and could yield devices of benefit to medical diagnostics, optoelectronics and other fields.
The distributed feedback optical resonator is incorporated directly into the LED architecture without obstructing charge-carrier flows into the quantum-dot emitting layer. Good confinement of the emitted light within the ultrathin CQD medium of around 50 nm was documented, which is essential for realizing a lasing effect while simultaneously allowing for efficient excitation of CQDs by the electrical current.
The next goal is to increase the current density to levels sufficient for obtaining population inversion, the regime when the quantum dot active medium turns into a light amplifier.
The research is reported in Nature Communications.