Skyworks Solutions Inc., a developer of high-performance analog semiconductors, unveiled its newest family of mini circulators for 5G infrastructure. Circulators, which play a critical role in protecting RF elements from excessive signal reflection, help eliminate performance risks and safeguard vital equipment.
Given footprint constraints in 5G, solution size is also a key factor. Leveraging proprietary materials and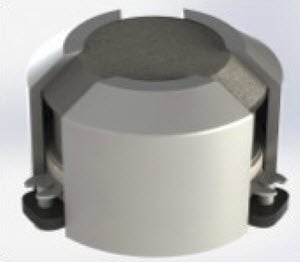 Source: Skyworks Solutionsprocesses, Skyworks' ultra-small circulators occupy up to 50% less board space than competitive products without compromising functionality — making them ideal for 5G massive MIMO and small cell applications.
Skyworks' mini circulator family joins the company's expansive 5G infrastructure portfolio, which includes high-efficiency drivers and small cell power amplifiers, advanced low-noise amplifiers (LNAs) with integrated high-power switches and a broad range of individual RF devices.
About Skyworks' 5G circulators
Skyworks' suite of mini circulators is available in 7 mm and 10 mm packages, both of which support the size requirements of 5G infrastructure applications. These compact, high-performance devices deliver optimal power handling and low insertion loss, improving the efficiency of the accompanying power amplifier. Select products from Skyworks' portfolio include the SKYFR-001692 and SKYFR-001657.
For more information, visit Skyworks' 5G Infrastructure Solutions.