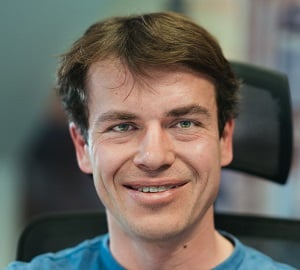 Laszlo Kishonti, CEO of AImotiveWhile numerous automotive OEMs and startups are working on proprietary self-driving vehicles, a number of other companies are working on software and hardware platforms designed to help vendors get automated driving solutions to market quickly.
AImotive has been working on its platform for a number of years and recently rolled out its third-generation AiWare for central processing and sensor fusion units for companies developing Level 3 autonomy.
[Learn about autonomy levels in A Primer to Six Levels of Autonomous Driving]
Now, the company has introduced its second-generation, artificial intelligence self-driving full-stack software, aiDrive2, giving automotive OEMs, Tier 1 suppliers and Robotaxi vendors the ability to integrate selected modules into one solution. The technology is compatible with a wide range of sensor types and will serve as a platform for collaboration in the automotive industry, the company said.
"The whole autonomous industry has changed in 2018, and 2019 will probably bring even greater change," Laszlo Kishonti, CEO of AImotive told Electronics360. "The widespread optimism surrounding the deployment of self-driving technology has disappeared, giving way to more realistic and grounded predictions and roadmaps."
Because the industry remains fragmented, Kishonti said this year will be a turning point for many companies and consolidation is likely to happen.
"I believe that the self-driving industry will move toward collaboration and standardization as these are vital not only to build both regulatory and consumer trust in the technology, but to actually achieve fully autonomous driving," he said.
The aiDrive2 software stack works with advanced driver assistance systems (ADAS) and Level 4 autonomy, helping companies reduce time to market for automated driving solutions. The artificial intelligence is used in perception and motion planning for safety in autonomous operations, and the platform is optimized for embedded automotive hardware platforms.
At CES, AImotive will demo the aiDrive2 software stack alongside its aiSim2, an autonomous technology simulator running on AImotive's purpose-built simulation engine. The company will also demonstrate an aiWare test chip that shows the capabilities of the hardware IP core when implemented in silicon. The chip was developed in a partnership with VeriSilicon and Globalfoundries running the first generation of AImotive's IP architecture. The demo will show how the technology works in collaboration with companies in the automotive semiconductor segment.