U.K. telecom Vodafone has been testing its drone technology with a 4G connection. The company recently delivered what it bills as the first drone delivery in the country using an unmanned aerial vehicle (UAV) on a 4G network: bringing treats to volunteers on the Isle of Portland in Dorset.
Drone delivery projects have cropped up in other parts of Europe, including healthcare deliveries in Switzerland via Matternet drones and Alphabet Wing's planned 2019 delivery project in Finland. But other parts of the continent are not yet on board.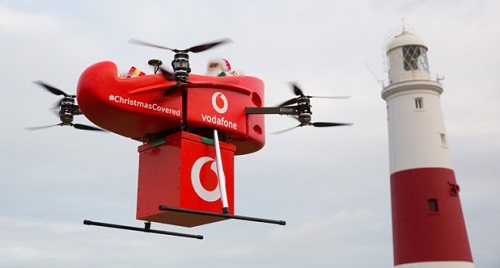 The test opens the door to future deliveries using 5G. Source: VodafoneVodafone dressed up one of its 4G-networked drones as Santa Claus and delivered Christmas treats to 75 volunteers in the Isle of Portland. The volunteers spend more than 9,500 hours a year keeping both the sea and shore safe.
Typically, drones communicate back to the pilot via a radio link, which gives the vehicle line-of-sight operating range. With a 4G modem on board, the delivery drone can be monitored in real-time from a much greater distance without having to stay directly in range of radio signals.
Vodafone said the drone delivery connection is what is envisioned for how these devices will be used in the future. It will also be a boon with the low latency of 5G when it arrives and will allow for brand-new ways to exchange physical items using digital technology.
"Technology plays an increasingly important role in connecting people over Christmas," said Scott Petty, CTO of Vodafone UK. "And flying a drone over 4G for the first time gives us a glimpse of what Christmas deliveries of the future might look like."