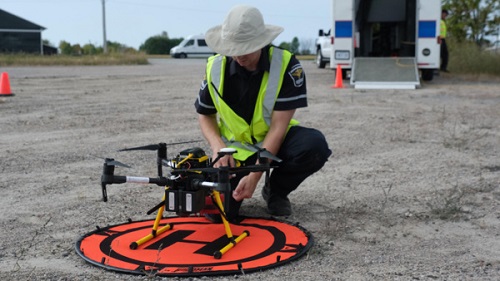 Canadian emergency service professionals work with an LTE-enabled BVLOS drone. Source: EricssonCommunications equipment vendor Ericsson is working with the government of Ontario, Canada, to test drones for life-saving equipment and emergency medical supplies delivery over long travel distances via drones using a cellular connection.
Drones that can go beyond-visual-line-of-sight (BVLOS) could travel up to 17 times the distance covered by non-mobile alternatives, the company said.
Ericsson tested the drones with automated external defibrillators (AEDs), delivering them to specific GPS locations across about a 10 mile radius. During testing, the drones arrived seven minutes earlier than paramedic vehicles.
Using a mobile network with drones could help deliver life-saving equipment or healthcare supplies to locations more than 80 miles away from one control point, compared to about 4.5 miles for current non-mobile network-enabled delivery services. The 4G LTE tests also included video streaming, photo-sharing and artificial intelligence capabilities such as collision avoidance.
During testing in Renfrew County, Ontario, a drone flew on an LTE network to points on a GPS and successfully delivered an AED to onsite researchers who used it to treat a medical mannequin. The Canadian government used drones from InDro Robotics, an on-board router from Cradlepoint and 4G LTE equipment with carrier aggregation and mobile network design support from Ericsson.
"Given the large area and varied terrain that the county encompasses, it is often difficult to get emergency medical services to patients in a timely fashion," said Mike Nolan, chief of the Renfrew County paramedics. "We have been successfully using drones to support our emergency responders for several years, but until now, the operators have had line-of-sight of the situation. We will now have further reach than ever."
This isn't the first time that 4G LTE has been tested with drones in order to provide long-distance delivery via drones. Last year, Vodafone tested a similar pilot project in the U.K. in order to bring parcels to a remote area of the country.
BVLOS is considered a necessary next step for drone operations and a paramount function for drone delivery. Whereas most drones have to be controlled by a user within the drone's line of sight in order to avoid accidents, BVLOS would allow drones to travel longer than beyond a point where operators can see it, thereby allowing drones to conduct autonomous flights without a pilot at take-off or landing.