The time-consuming nature inherent in diagnosing bacterial infections places patients at substantial risk — recent statistics indicate that every hour of delay in antibiotic treatment increases mortality rates by almost 8% due to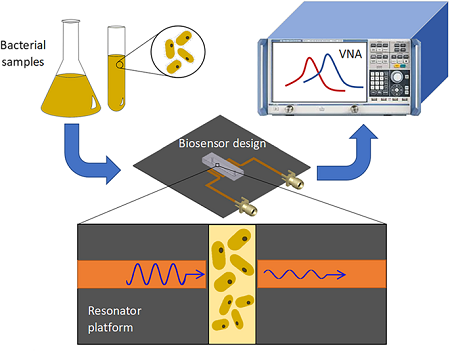 Conceptual representation of the experiments for the detection of bacteria concentration and proliferation. Source: University of British Columbia-Okanaganinfection complications in the bloodstream. Researchers from Canada's University of Calgary and University of British Columbia-Okanagan have tapped lab-on-a-chip microfluidic technology to enable almost instantaneous diagnosis of such infections.
The small, inexpensive biosensor generates accurate results in real-time, a notable contrast to the 2 to 5 day window required by existing protocols. A microfluidic device is combined with planar microwave sensing structures to increase clinical efficiency and speed diagnoses. By sending a 2.5 GHz microwave signal through the sample, the device quickly and accurately analyzes and then generates a profile of existing bacteria.
To test the system, the microfluidic chip-microwave microstrip ring resonator sensor was injected with Escherichia coli bacterial samples. The presence of different concentrations of bacteria in different pH solutions was detected by screening changes in resonant amplitude and frequency responses of the microwave system. The diagnostic tool can also be used to examine the interaction of identified bacteria with antibiotics.
The research is published in Nature Scientific Reports.