Thine Electronics, Inc, a semiconductor company focusing on high speed serial interfaces and image signal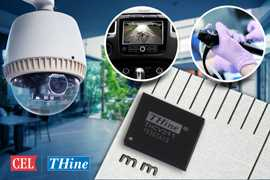 Source: CELprocessing, and California Eastern Laboratories, Inc. (CEL), the strategic sales and technical support partner of Thine for the Americas, have announced the availability of Thine ICs through CEL's distribution partners.
CEL's distribution partners include all the major distributors in the U.S. such as Arrow Electronics, Avnet, Future Electronics, Digi-Key Electronics and Mouser Electronics. Through these distributors, customers have easy access to Thine products with favorable terms.
CEL will continue to supply technical support as well as evaluation tools to aid customers' design-ins of Thine products, in addition to the collaboration with Thine and Thine Solutions, Inc. (Thine Solutions), Thine's subsidiary in the U.S.
Thine is a global leading Japanese company focused on providing solutions for high-resolution advanced image systems that are becoming more and more prevalent in today's commercial and consumer electronic systems. Thine recently established Thine Solutions to accelerate its marketing and product defining activities in the U.S.
Thine's products include serializer and deserializer ICs deploying LVDS and V-by-One HS industry standards. The LVDS standard is a differential signaling standard also known as TIA/EIA-644. The V-by-One HS standard is a differential signaling standard developed by Thine that operates at higher speeds than LVDS. It allows a high-resolution video signal to be transmitted and received through a reduced number of lanes than LVDS using inexpensive cables. Thus, V-by-One HS enables a simplified video system design at a reduced system cost.
In addition to serializer and deserializer ICs, the Thine product line includes image signal processor ICs supporting camera systems of 16M pixel resolution and repeater ICs that reform a high-speed signal to improve its signal quality and enable gigabit serial signal transmission, such as USB3.1 Gen2, PCI Express Gen2, SATA Gen2, over longer cables. Other products from Thine include timing controller ICs, LED driver ICs, motor driver ICs, power management ICs and video AvDC ICs.
Applications for Thine products include wearable devices for XR (AR/VR/MR), smartphones, tablet-type and laptop computers, surveillance cameras, 4K TVs, digital signage displays, machine vision, multi-function printers, medical equipment, data center equipment and automotive devices.
To view a list of the available Thine products, visit CEL's Signal Processing ICs overview table.