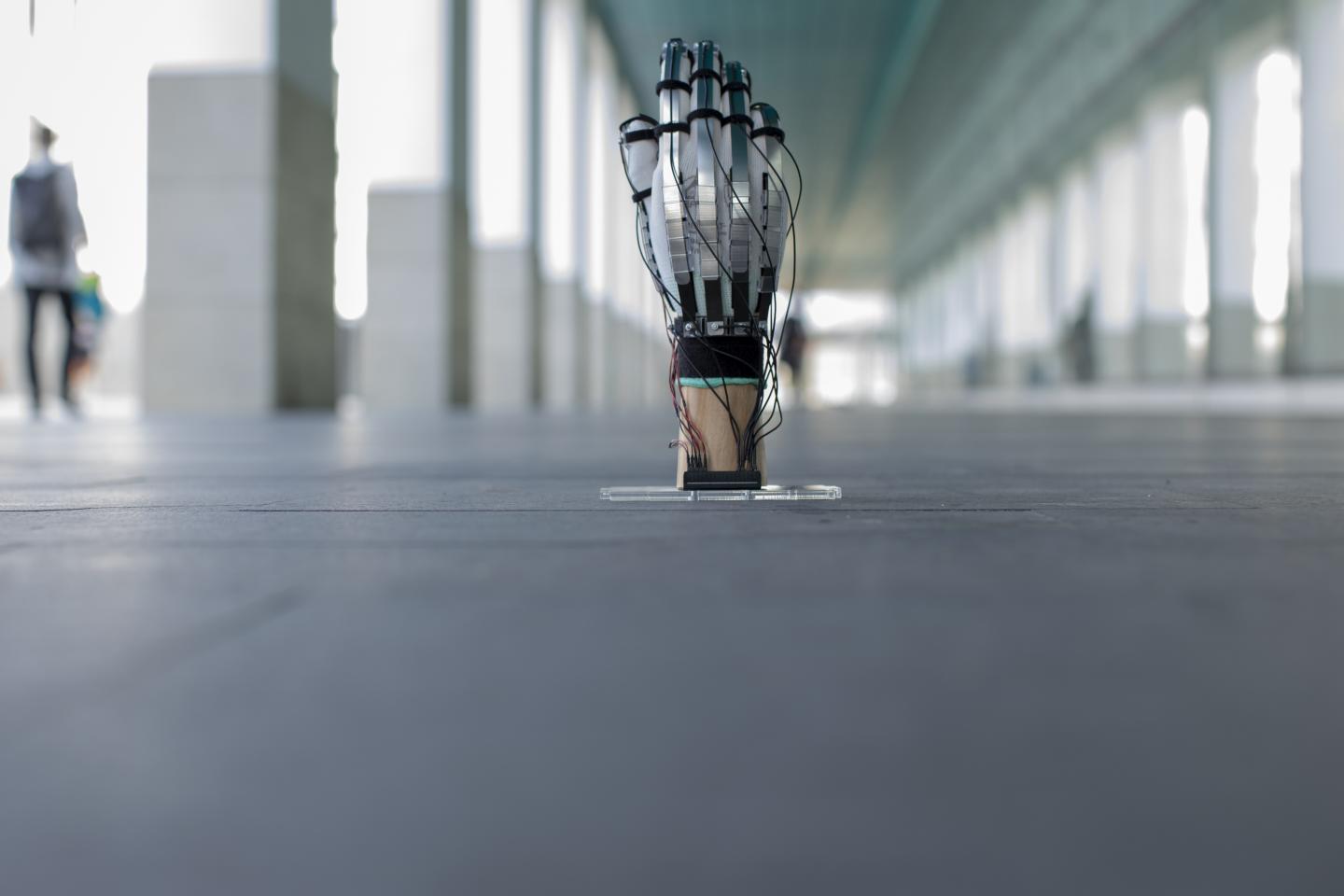 The glove weighs only 8 g per finger. Source: Marc Delachaux/EPFL 2018
Researchers from EPFL and ETH Zurich have developed a new haptic glove named Dextres. Dextres allows people to pick up virtual objects when using a virtual reality (VR) headset.
The haptic gloves weigh 8 grams per finger. When the user attempts to pick up a virtual object, the gloves generate up to 40 Newtons of holding force per finger. Dextres gloves don't require a lot of power. In fact, they only use 200 volts and a few milliwatts of power and each glove measures 2 mm thick.
"We wanted to develop a lightweight device that — unlike existing virtual-reality gloves — doesn't require a bulky exoskeleton, pumps or very thick cables," said Herbert Shea, head of EPFL's Soft Transducers Laboratory (LMTS).
The Dextres are made of nylon with thin, elastic metal strips over the fingers. The strips are what sparks the feeling of holding an object that isn't there. The strips are separated by a thin insulator. When the user tries to touch a virtual object, the controller applies the appropriate voltage to the metal strips, causing them to stick together and create the weight of an object. When the voltage is stripped, the strips glide together to create easy movement.
Currently, the glove is powered by a thin electric cable, but researchers believe that the gloves could, one day, require only a small battery.
"The system's low power requirement is because it doesn't create a movement, but blocks one," explained Shea.
The Dextres gloves need more testing to get even closer to simulating real life. So far, the gloves have been successfully tested in Zurich.
"Our partnership with the EPFL lab is a very good match. It allows us to tackle some of the longstanding challenges in virtual reality at a pace and depth that would otherwise not be possible," added Hilliges.
The team's next step is to further develop and scale up the device so the same technology can be applied to other parts of the body. Potentially, this technology could allow VR gamers to feel an entire environment around them while they are playing a game.
This technology will be presented at the ACM Symposium on User Interface Software and Technology (UIST).