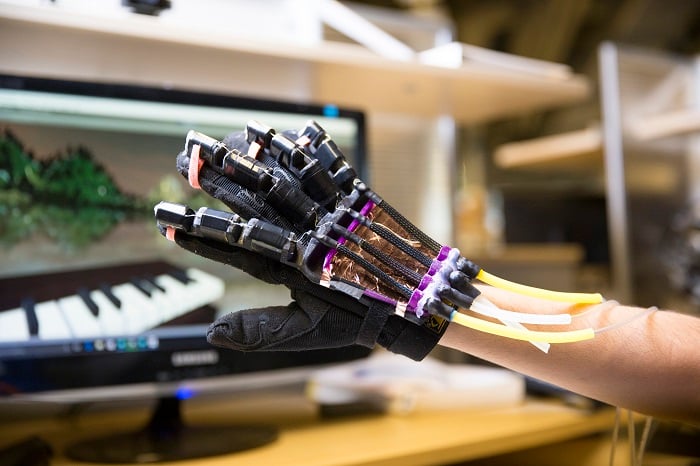 The soft robotics glove uses tactical feedback by deflating and inflating when a user interacts in a virtual environment. (Source: UC San Diego)The current state of virtual reality (VR) consists of a headset and remote control devices that simply vibrate when a user touches an object or a surface in the virtual realm.
Engineers at University of California, San Diego are looking to change that using soft robotics in a flexible gloves that allow for tactile feedback, so users can actually feel virtual reality environments.
The goal is to make VR environments feel more real, something the researchers demonstrated with a virtual piano keyboard that an engineer was able feel, helping him to play the keys through the glove.
"You can't touch anything or feel resistance when you're pushing a button," says Jurgen Schulze, researcher at the Qualcomm Institute at UC San Diego, of current VR setups. "By contrast, we are trying to make the user feel like they're in the actual environment from a tactile point of view."
How They Did It
The gloves consist of three main components. First, a Leap Motion sensor detects the position and movement of the user's hands. Next, a custom fluidic control board powers the movement of the gloves. Finally, the soft robotics inside the glove inflate or deflate to mimic the forces that the user would encounter in the VR environment.
A key component to the soft robotics is called a McKibben muscle, latex chambers covered with braided fibers. The muscles respond like springs to apply force when a user moves their fingers. The board controls the muscles by inflating and deflating them.
Researchers used a 3-D printed mold to make the gloves' soft exoskeleton, to aid easier mass production of the devices with cheap materials. Silicone rubber was used for the exoskeleton and Velcro straps were embedded at the joints.
The next steps involve working to make the glove cheaper, less bulky and more portable, as well as conducting research into bypassing the Leap Motion device altogether to make for a more compact system.
"Our final goal is to create a device that provides a richer experience in VR," says Michael Tolley, a mechanical engineering professor at the Jacobs School of Engineering at UC San Diego. "But you could imagine it being used for surgery and video games, among other applications."