Saelig Co. Inc. has announced the availability of the Teledyne LeCroy Sodera LE wideband Bluetooth protocol analyzer — designed to address internet of things (IoT) development with the full support of Bluetooth 5.
The analyzer helps developers identify Bluetooth Low Energy data communications problems, such as insufficient throughput, power consumption and timing issues. Data captured by the Sodera LE can be evaluated using the supplied Bluetooth protocol analysis software. Users can sort, search and drill down to decode each Bluetooth Low Energy frame from multiple low energy devices for comprehensive IoT debugging.
Built-in attenuation is provided for conducted (wired) sniffing in noisy environments, but automatic gain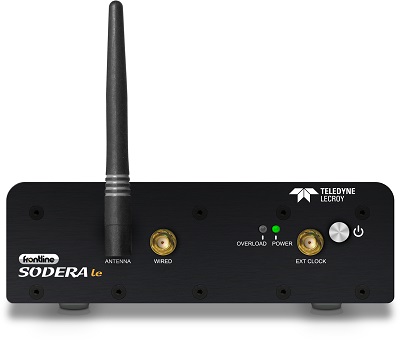 Source: Saelig Co. Inc.control and user configurable gain settings are also available. Decoding support is provided for all Bluetooth LE technologies 4.0, 4.1, 4.2 and 5 specifications. Support is also provided for CSRMesh and Bluetooth mesh technology, as well as important LE features like 2 Mbps, advertising extensions, long range and other key updates.
The Sodera LE's wideband radio captures transmissions over the entire 2.4 GHz ISM band simultaneously, allowing developers to choose which devices are to be decrypted and decoded for further analysis. This review can be in real time or later when saved for evaluation. The Sodera LE's small footprint (6.3 X 1.9 X 6.3 in) and weight (2.9 lb) allows for portability and use in field applications.
Device-to-device transmissions using the low energy feature of Bluetooth wireless technology is at the heart of the ever-expanding IoT world. Bluetooth 5 has brought even more opportunities with longer range, faster speeds and major improvements in both connected and connectionless technologies used by beacons and mesh. This increasing connectedness means faster, easier, more intuitive and safer devices, but it also brings more complex topologies, more interoperability obstacles and more development challenges.
The Teledyne LeCroy Sodera LE is the ideal solution for Bluetooth developers who want the power of wideband captures and post-capture decryption. It is available now from Teledyne LeCroy's authorized North American distributor Saelig Company, Inc. Fairport, N.Y.