The aging of geothermal power plants worldwide points to the need for condition monitoring diagnostics. A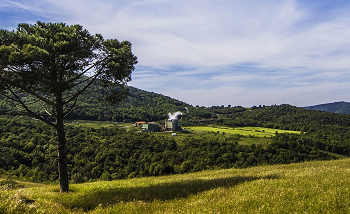 The Rancia 2 geothermal power plant in Tuscany, Italy. Source: Enel Green Powerremote diagnostics platform has been developed by Enel Green Power and academic and research partners to apply digital technologies to geothermal plant performance prediction and analysis.
The SmartGEO system integrates existing technologies with new concept solutions for sensors and analysis in order to collect and examine all of a plant's data. The first phase of the project was launched in 2017, when monitoring system elements were installed in the wells, steam collection network, re-injection pumps and pipelines at the Rancia 2 geothermal plant in Larderello, Italy. A key component entailed the use of an innovative human-machine graphic interface, which allowed operators to quickly identify the best corrective measures, which are expected to increase plant output by at least 1.5 GWh a year.
The University of Florence created complex analytical algorithms that benefit plant performance evaluation. New wireless sensors from the Sant'Anna School of Advanced Studies can be used in other applications, including smart grids, home automation and other industrial areas.
Future project phases will include the design of a new generation of the remote diagnostics system for use in facilities powered by other renewable resources.