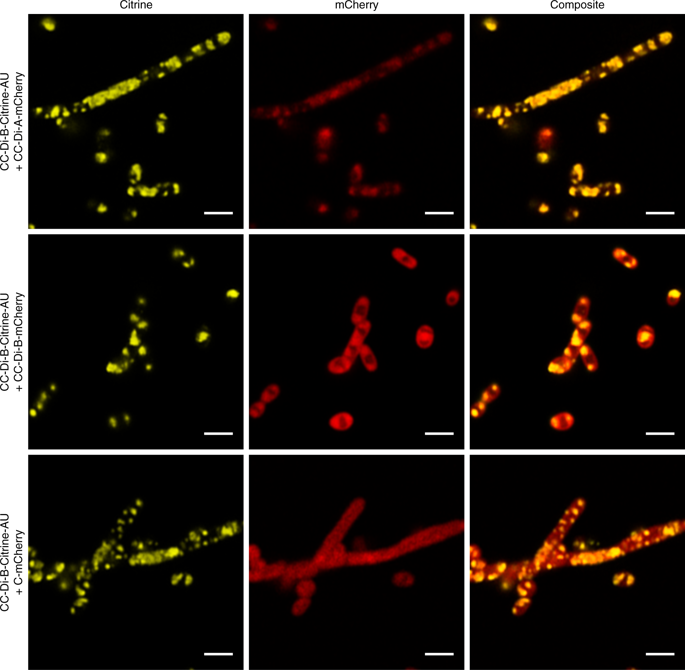 Localization of fluorescent proteins to coiled-coil labeled BMCs. Confocal analysis of E. coli BL21 * (DE3) cells showing Citrine, mCherry and composite fluorescence signals for cells expressing CC-Di-B-Citrine-PduA-U with CC-Di-A-mCherry, CC-Di-B-mCherry or C-mCherry. Source: University of Kent
University of Kent researchers in the School of Biosciences teamed up with researchers from University College London, University of Bristol and Queen Mary University London to develop a new method that manipulates organelles to create cell factories for biofuels and vaccine production.
To create the reproductive cell factories, the researchers improved on systems within cells that enable the synthesis of nanoreactors within cells. The cells can then convert sugar into fuel or even convert nano-particles within the proteins to create vaccines. To do this, the team redesigned and re-engineered organelles so they can be easily manipulated, turning the bacteria into cell factories.
Organelles are very small, measuring at around 100 nm in diameter. Organelles hold specific metabolic pathways, called bacterial microcompartments (BMCs), that are linked to a series of chemical reactions. BMCs have a lot of potential for biofuel and vaccine production but they have drawbacks, including difficulty in targeting new pathways and process production in a controllable way.
To overcome these issues, the researchers created a pair of interacting peptides that target the proteins in organelles. This adjustment facilitated the display of proteins on the surface of BMCs. The synthetic biology enabled the researchers to remodel one of the components of the BMC shell. This allowed the team to use the same technology to internalize the proteins in BMCs. The proteins could then be displayed at the surface of the BMCs.
Kent's Dr. Matt Lee, a lead scientist on the project, said, "This breakthrough could open up the possibility of utilizing these organelles for a wide variety of applications, including the generation of biofuels, as well as for drug delivery and vaccine development. It demonstrates the power of synthetic biology to help achieve useful applications in biotechnology."
The paper on this technology was published in Nature Communications.