A new diagnostic technology developed at U.S. Lawrence Berkeley National Laboratory (LBNL) promises to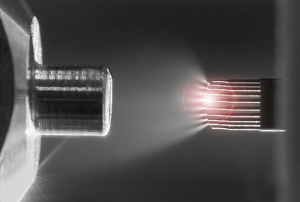 The multinozzle emitter. Source: Newomicsspeed and improve the accuracy of blood assays for proteins, peptides and other molecular components. The technology, now being commercialized by LBNL spinoff Newomics Inc., is designed to work with mass spectrometers.
Electrospray ionization mass spectrometry is time- and cost-intensive, as each sample must be individually loaded, aligned and sprayed as an ionized mist. The multinozzle emitter array (MEA) developed by the researchers is a silicon chip that can shorten the process time. The M3 emitter is up to 10 times more sensitive than conventional emitters, and with some analytes, even 100 times more sensitive.
The technology is expected to accelerate "single-cell omics," an emerging field in biology where DNA, RNA, proteins and metabolites are investigated at the individual cell level, yielding fresh insights into disease and immunity. Instead of a single capillary, the M3 emitter has eight or more nozzles working together to split a single large flow into smaller flows. For the MEA, up to 96 M3 emitters are packaged on a single chip.
The increased throughput afforded by this arrangement could lower the costs for testing each sample. Improved sensitivity allows for detection of very low concentrations of molecules. The researchers demonstrated analysis of many different modified forms of proteins such as glycated albumin and apolipoproteins, in addition to the conventional glucose and HbA1c in diabetes monitoring, using a single drop of blood.