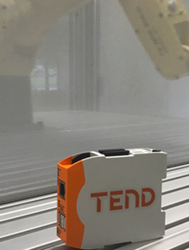 Source: TendTend is releasing the first "smart" predictive maintenance system for industrial robots called In.advance. The system is based on a proprietary machine-learning engine running in the factory. In.advance uses anomaly detection to address potential robot failures before the issues affect production.
In.advance solves the predictive maintenance problem simply and reliably, reducing factory downtime by 50 percent. It is a unified "robot agnostic" tool for all robot manufacturers. The intuitive browser dashboard uses SMS and email alerts to diagnose failures.
Tend's Smart Predictive Maintenance deploys an edge device inside each robot cell so it learns the robot's "normal" operational parameters. This device locally processes the ongoing data from the robot for anything that may indicate potential failures. The system can send alerts via SMS or email that pinpoint which robot is having an issue and which component inside the robot is showing signs of failing health.
Learn all about the robot maintenance system by going to Tend.