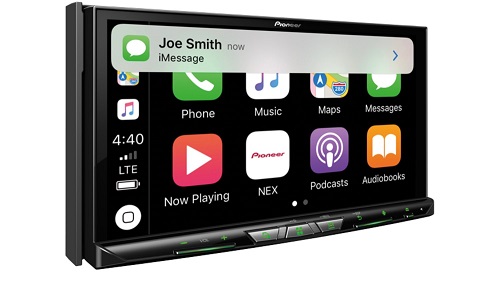 The AVH-W8499NEX infotainment in-dash receiver. Source: Cypress Pioneer Corp. has integrated a Cypress Semiconductor Corp. Wi-Fi and Bluetooth combination solution into its in-dash navigation infotainment system.
The solution allows passengers to display and use smartphone apps on the receiver screen via Apple CarPlay or Android Auto, which provide the ability to use smartphone voice recognition to search for information or respond to text messages.
Cypress' Wi-Fi/Bluetooth combo offering uses real simultaneous dual band (RSDB) technology so smartphones can operate concurrently without degradation caused by switching back and forth between bands.
The Pioneer AVH-W8499NEX receiver uses the Cypress CYW89359 IC that includes a coexistence engine enabling optimal performance for dual-band 2.4- and 5-GHz 802.11ac Wi-Fi and dual-mode Bluetooth/Bluetooth Low Energy simultaneously for multimedia experiences. The chip is fully automotive qualified with AECQ-100 grade-3 validation and supports in-vehicle connectivity options such as infotainment and telematics applications such as smartphone screen-mirroring, content streaming and Bluetooth voice connectivity in car kits.
"Switching between bands for smartphone mirroring just doesn't deliver the user experience people want, but our wireless solution with dual-Wi-Fi subsystems delivers double the bandwidth to bring an optimal mirroring experience to Pioneer's receiver," said Sudhir Gopalswamy, executive vice president of the Microcontrollers and Connectivity Division at Cypress. "This solution is helping Cypress to capture the growing chip content in cars, and we're seeing demand for similar forward-looking infotainment features for the connected living room."