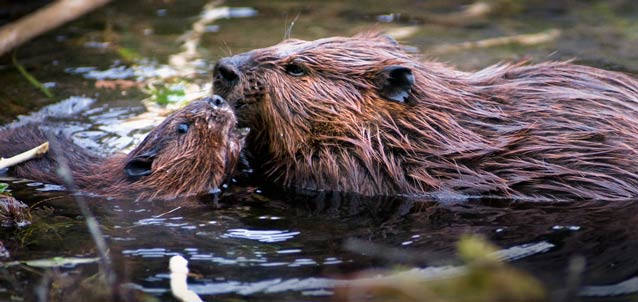 New algorithm for autonomous robots inspired by beaver behavior. Source: NPS Photo / Kent Miller
University of Buffalo researchers have developed an algorithm that helps autonomous robots navigate their way through rough outdoor terrain and areas hit by natural disaster. Autonomous robots have an easier time navigating their way through controlled, indoor environments and a harder time making their way through the outdoor terrain. Researchers turned to termites and beavers as the inspiration for the new algorithm that allows robots to navigate through outdoor environments.
"When a beaver builds a dam, it's not following a blueprint. Instead, it's reacting to moving water. It's trying to stop the water from flowing," says Nils Napp, Ph.D., assistant professor of computer science and engineering in UB's School of Engineering and Applied Sciences. "We're developing a system for autonomous robots to behave similarly. The robot continuously monitors and modifies its terrain to make it more mobile."
The new algorithms have set rules for the autonomous machines that help them travel through its surroundings. The algorithm also allows the robot to problem solve on the go, such as when it comes across an obstruction.
The researchers use a phenomenon called stigmergy to create the algorithms. Stigmergy is a biological phenomenon that explains a wide range of things, like the behavior of termites or beavers. The stigmergy-inspired algorithm was loaded into software that was then attached to an autonomous mini-rover that also had a camera and robotic arm that can lift and move objects.
This robot was measured in a test environment that simulated a disaster environment, such as one hit by a tornado or hurricane. The robot used the algorithms to monitor and scan the area for the entire time it was in the environment. The researchers had also placed bean bags randomly throughout the environment. The robot used the scanning feature to detect bean bags and the robotic arm picked up the bean bags and deposited them in holes and gaps between the rocks, bricks and concrete. The robot used the bean bags to create a ramp that it could climb over to reach a flat platform.
"In this case, it's like a beaver using nearby materials to build with. The robot takes its cues from its surroundings, and it will keep modifying its environment until it has created a ramp," Napp says. "That means it can fix mistakes and react to disturbances; for example, pesky researchers messing up half-built ramps, just like beavers that fix leaks in their dams."