A low-cost, compact and field-portable 3D printed holographic microscope designed at the University of Connecticut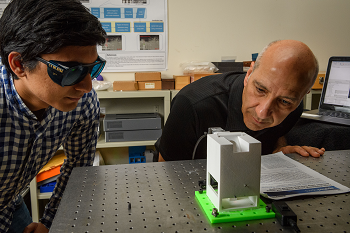 Siddharth Rawat, left, a Ph.D. student, and Bahram Javidi, Board of Trustees Distinguished Professor of Electrical and Computer Engineering, operate a prototype device to examine blood samples for diseases. The portable holographic field microscope offers medical professionals a fast and reliable tool for the identification of diseased cells. Source: Peter Morenus/UConn Photo represents a new tool for fast, reliable disease diagnosis. The microscope is intended for the detection of malaria and other diseases in the field, and the holograms produced can also be applied to rapid analysis of cell characteristics associated with HIV, cancer, heart disease and other illnesses.
For detection of malaria, a blood sample put under the microscope is exposed to a monochromatic light beam generated by a laser diode or other light source. Optical sensors inside the device split the light beam into two beams in order to record a digital hologram of the red blood cells. The hologram is captured by an image sensor, such as a digital webcam or cell phone camera, connected to the 3D microscope.
The data can be transferred to a laptop computer or offsite laboratory database via the internet, after which the hardware reconstructs a 3D profile of the cell and measures the interaction of light with the cell under inspection. Any diseased cells are identified using computer pattern recognition software and statistical analysis.
Conventional light microscopes only record the projected image intensity of an object, and have limited capability for visualizing the detailed, quantitative characterizations of cells. The digital holograms acquired by the 3D microscope document micro and nanoscale structural features of individual cells with great detail and clarity. Those enhanced images allow medical professionals and researchers to measure an individual cell's thickness, volume, surface and dry mass, as well as other structural and physiological changes in a cell or groups of cells over time.