The time required to manufacture a product has been considerably shortened by the advent of 3D printing. However, qualification testing technology to ensure that the product functions as intended cannot be borrowed from traditional manufacturing processes and is more time intensive than desirable.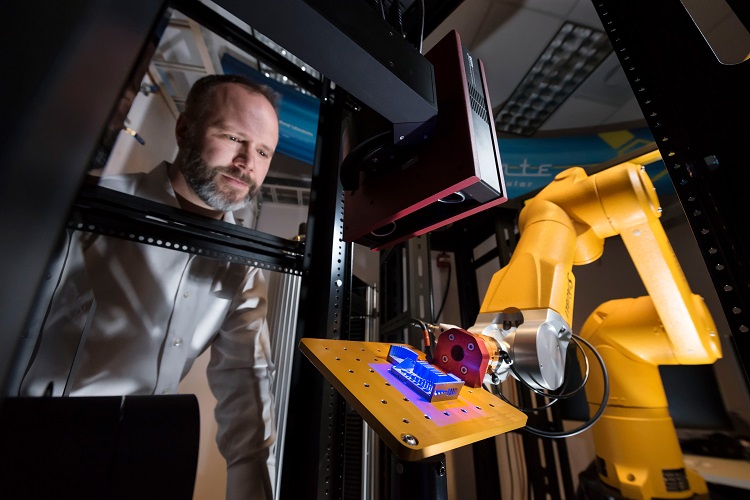 The Alinstante robotic work cell scans a 3D-printed part to compare what was made to the original design. Photo by Randy Montoya
Researchers at U.S. Sandia National Laboratories have engineered a potential solution in the form of a modular, scalable, robotic testing system. Named Alinstante - Spanish for "in an instant" - the system features a commercial robot in the middle of a six-sided work cell to perform rapid, high-throughput testing.
Each of the six "petal" workstations can host different commercial or custom testing systems, which can be swapped in and out depending on the kind of tests needed. The configuration allows combining multiple petals in a honeycomb-like structure to allow handoffs from petal to petal and provide almost limitless testing scalability.
Safety light curtains were also installed wherever a person and the robot might interact. If a person reaches into the work cell, or if the robotic arm reaches out of the work cell, the light beam is broken and the robot automatically stops.
The prototype Alinstante work cell only has two testing stations and a rack where users can place their parts. The first station is an off-the-shelf structured light scanner that can convert a scan into a 3D model for direct quantitative comparison to the original intended design. The second station is a load frame for testing physical properties, such as tensile and compression testing, which subjects objects to stress until breaking or deformation.
In the near-term, the researchers plan to have a user interface that will allow a non-expert to place parts on a tray in the parts rack, select a few tests and get the data automatically. The software architecture also needs to be modular so new modules and tests can be added easily.
The team is also interested in the addition of a laser-induced breakdown spectrometer to Alinstante, which would be useful for determining the batch-to-batch consistency in the chemical composition of parts in a minimally destructive manner. X-ray tomography, corrosion testing and density measurements are other tests the designers would like to add to Alinstante.