A microplate system for printing engineered muscle and tendon tissue offers a new tool to treat a variety of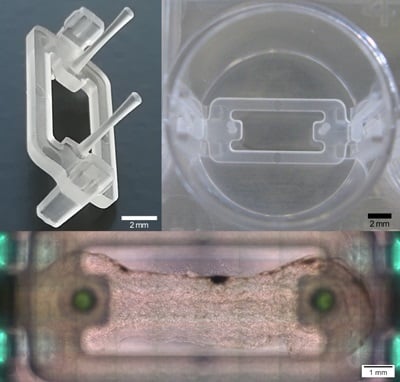 The multiwell plate device is designed for 3D muscle-tendon tissue printing. Source: Zurich University of Applied Sciencesmuscle and joint disorders and to screen for new drugs. Swiss scientists developed the novel screening platform with automated production of 3D muscle- and tendon–like tissues using 3D bioprinting.
The method combines automated musculoskeletal tissue production using 3D bioprinting with a new microwell plate addressing the specific tissue attachment requirements and provides an advanced approach for musculoskeletal drug discovery and development.
Muscle and tendon tissue models are fabricated by printing alternating layers of photo-polymerized gelatin-methacryloyl-based bioink and cell suspensions in a dumbbell shape onto a specially designed cell culture insert in 24-well plates containing two vertical posts. The cells show high viability after printing in culture and good tissue differentiation based on marker gene and protein expressions.
Functionality of the muscle tissue models was demonstrated by calcium signaling of Fluo4-loaded cells and myofiber contractility induced by electrical pulse stimulation. The technology was used to successfully fabricate tendon-muscle-tendon co-cultures by printing tenocytes around the posts of the cell culture inserts and myoblasts between the posts.
The research conducted by scientists from Novartis Institutes for BioMedical Research and Zurich University of Applied Sciences is published in the journal SLAS Technology.