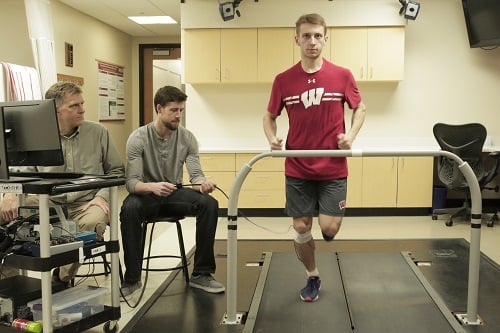 Medical wearable could help athletes know when they can return to action. Source: UW-Madison
When an athlete or weekend warrior has an injury to a tendon, it is often hard to gauge when they are ready to return to a sport or back on the trail.
Researchers at the University of Wisconsin-Madison have developed a new technology that could help tell when tendons are ready to withstand the rigors of physical activity.
While current wearables measure movement, they do not provide information on the muscle forces that generate the movement. Tendons, which are bands of tissue that connect muscles to the skeleton, are key to muscles generating movement at the joints.
Researchers developed a noninvasive device that is mounted on the skin over a tendon. The device enables researchers to assess tendon force by looking at how the vibrational characteristics of the tendon change when it undergoes loading, as it does during movement.
The development could be applied to fields ranging from orthopedics, rehabilitation, ergonomics and sports.
"We've found a way to measure the vibrational characteristics — in this case, the speed of a shear wave traveling along a tendon — and then we went further and determined how we can interpret this measurement to find the tensile stress within the tendon," says UW–Madison mechanical engineering professor Darryl Thelen.
The portable and inexpensive device lightly taps the tendon 50 times per second with each tap initiating a wave in the tendon. Two miniature accelerometers determine how quickly the wave travels.
Researchers have used the device to measure forces on the Achilles tendon as well as the patellar and hamstring tendons. In each case, the device can measure what happens in the tendon when users modify their gait such as changing step length or speed.
Measuring how muscles and tendons behave within the human body could lead to physicians planning more effective treatments for patients suffering from musculoskeletal diseases and injuries.