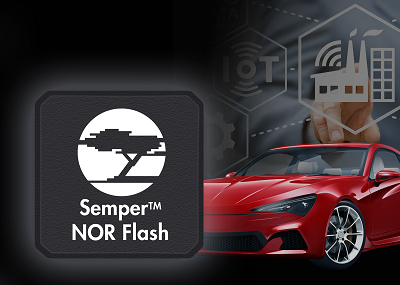 The Semper Flash family. Source: Cypress SemiconductorCypress Semiconductor Corp. has introduced a new family of NOR Flash memory designed for automotive and industrial applications.
Cypress said the Semper Flash family is the first memory that is architected and designed to meet the automotive industry's ISO 26262 functional safety standard for building fail-safe embedded automotive systems. The family is automotive-qualified and ASIL-B functional safety compliant with endurance and data retention at extreme temperatures common in the automotive and industrial applications.
The family is based on Cypress' EnduraFlex architecture that the company said simplifies system design by enabling a semper Flash device is divided into multiple partitions, independently optimized for high endurance or long retention. A partition can be configured to deliver up to 1.28 million program-erase cycles for 512 Mb density parts and 2.56 million cycles for 1 Gb parts. A partition can be configured to retain data for 25 years.
The Semper flash devices are sampling with volume production expected to begin in the first quarter of 2019.