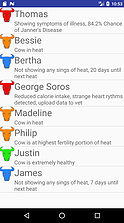 A screenshot of the EmbediVet app. Source: Livestock Labs
Sydney-based Livestock Labs has developed an implantable sensor for monitoring livestock health, location and more.
The implant, called EmbediVet, uses RFID technology to communicate details about an animal's health to a proprietary app. Farmers can use the app to gain a comprehensive picture of each animal's health, including signs of illness, fertility characteristics, nutrition information and cardiac rhythms. The app also features real-time distress alerts so farmers can use their time to tend only to animals that need attention.
According to the company's website, the sensor can also help farmers keep tabs on the quality of the meat they are raising. The app grants insight into the animal's marbling and EBV, a common quality measurement comparing an individual animal's characteristics with a breed benchmark or herd quality.
The device runs on a coin-cell battery that lasts around three years. It includes an ARM processor and Bluetooth and long-range radios, as well as a thermometer, accelerometer, heart-rate monitor and pulse oximeter.
Livestock Labs founder and CEO Tim Cannon, a noted biohacker, is looking to eventually expand Embedivet technology for human use. His former startup, Grindhouse Wetware, focused on developing implantable electronics for humans.