A wearable health sensor designed at Imperial College London can monitor heart and respiratory patterns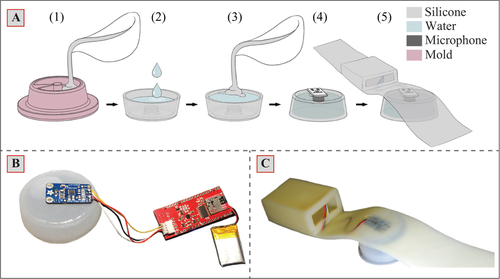 A) Fabrication steps of the water–silicone composite transducer. B) The wireless electronics, battery and microphone. C) The harness produced by embedding the microphone amplifier with silicone. Electronics and battery are placed in a 3D printer container and placed in the sleeve on the harness. Source: Guder Research Group/Imperial College Londonthrough several layers of clothing. Since the device does not require direct skin contact to track vital signs, it might also be used as a health monitor for pets and livestock.
A silicone polymer-water composite encases a microphone as a flexible sensor that conforms to the shape of the wearer's skin, clothing or fur. Sound waves captured by the embedded battery‐operated microelectronics are converted to a digital signal and transmitted to a portable computer for real-time display of human or animal heart rate and respiration trends.
Tests conducted with five humans and one Labrador retriever demonstrated that the device works through up to four layers of clothes, and that the sensor works best when the clothing or fur sits right up against the skin.
The sensor described in Advanced Functional Materials is easily fabricated at a cost of just over $30 for components. The digital data can be preprocessed with an on‐board microcontroller and further processed on a more powerful mobile device with cloud storage capabilities. Machine learning algorithms can be applied to the data collected to detect anomalies and alert healthcare professionals or pet owners of anomalies, and a motion sensor is under development to enable tracking of animal movements in real time.