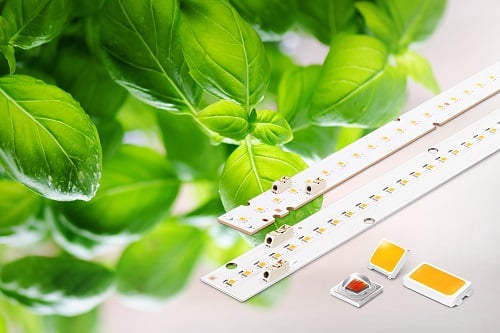 The new horticulture LED modules. Source: SamsungSamsung Electronics Co. Ltd. has announced it is now offering light emitting diode (LED) components for horticulture lighting.
The horticulture LED lineup features a red LED package as well as existing Samsung white LED package and module families to include horticulture lighting specifications. The LH351B Red provides a wavelength of 660 nanometers with a photosynthetic photon flux (PPF) value of 2.15 micromoles per second, which helps accelerate the growing of plants including their photosynthesis as well as enrich the blooming of flowers.
The package also features a very low thermal resistance of 2.0 kelvins per watt (K/W)) allowing for easier heat dissipation within LED luminaries. The LED uses the same electrode pad design as its LH351 series counterparts allowing for PCB design flexibility in luminaire manufacturing.
The horticulture LEDs are available now.