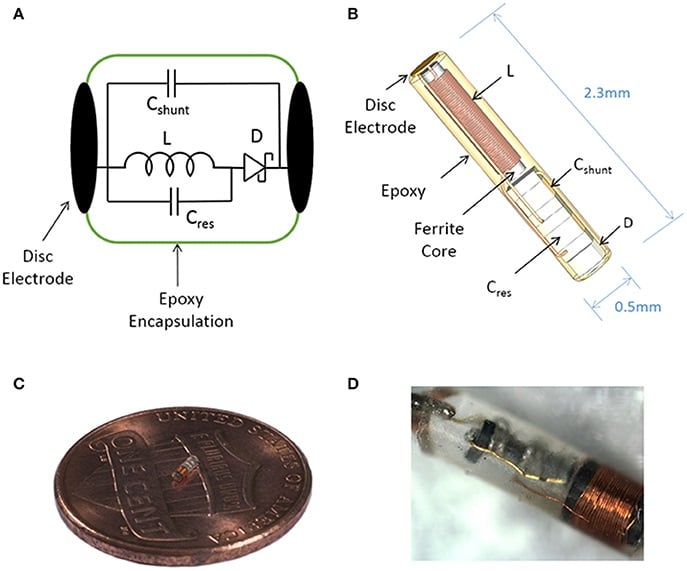 (A) Illustration of the sub-millimeter, wireless stimulator. (B) Assembly of the stimulator, with a total volume of 0.45 mm3. (C,D) Images of a built prototype. Source: Draper
A neural stimulation device diminutive enough to be injected into the human body may offer new treatment for chronic pain, inflammatory conditions and other afflictions of the peripheral nervous system.
Researchers from Harvard Medical School, the University of Texas and Draper, a not-for-profit R&D company in Cambridge, Mass., developed a proof-of-concept for a sub-millimeter, inductively-powered neural stimulator that reduces the number of electronic components without sacrificing performance. The wireless neural stimulator is small enough to attach onto a nerve and deliver enough current to activate nerves in the body. The device is 2.5-millimeters long with wires 0.5 millimeters in diameter, making it five times smaller than other radio-powered wireless stimulators.
A coil receives power, a capacitor tunes the resonant frequency of the receiver and a diode rectifies the radio-frequency signal to produce neural stimulation. Miniaturization was enabled by encapsulating the device in epoxy approved by the U.S. Food and Drug Administration for use in medical implants, rather than titanium or ceramic, which tends to make such devices bulky. Stimulators of this size and scale allow the electronics and antenna to be entirely integrated into a cuff for a peripheral nerve.
The developers envision use of the device as an alternative to opiates for treatment of chronic pain. The user can activate the stimulator intermittently or continuously, depending on the need.
Trials with animal models demonstrated that the device is capable of exciting neurons in the sciatic nerve.
The research has been published in Frontiers in Neuroscience.