A squishy foam body robot offers more than just a squeeze for stressed-out people. The Mentally Assistive Robotic Companion (MARCo) was developed as a therapeutic assistant for people suffering from depression, bipolar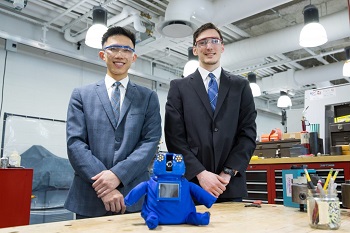 MARCo is a therapeutic device for individuals suffering from mental illness. Source: The College of New Jerseydisorder or generalized anxiety disorder.
MARCo was engineered at The College of New Jersey to help shrink the gap between those who need mental health care and a shortage of licensed caregivers in the United States. Facial recognition capability is used to scan an individual's face in order to detect emotion and recognize users. A video touchscreen shows images and videos for relaxed guided meditation, and the robot's LED eyes help individuals who experience seasonal affective disorder.
MARCo can also accelerate response times in high-risk situations by recognizing phrases such as, "I've been having thoughts of ending it all," and immediately sending text messages to pre-programmed emergency contacts.
The student designers earned first-place and $30,000 in the college's 2018 Mayo Business Plan Competition. The team has launched MARCo Technologies, of which MARCo is the CEO – chief emotional officer.